I'm going to be totally honest here. This is a somewhat superficial post. Yes, beauty is on the inside. And yes, confidence is the best way to feel fabulous. But there are simply some days when I feel tired, frazzled and just NOT sparkling. On those days if someone were to say to me, "Just smile! Be confident! You'll look GREEEEAT!" I think I might slug 'em. So here is a list of practical tips you can employ to make yourself feel just a wee bit prettier. Use 'em all together. Or just do one. I guarantee it will help pull you out of the doldrums, pronto!
1. SMELL NICE.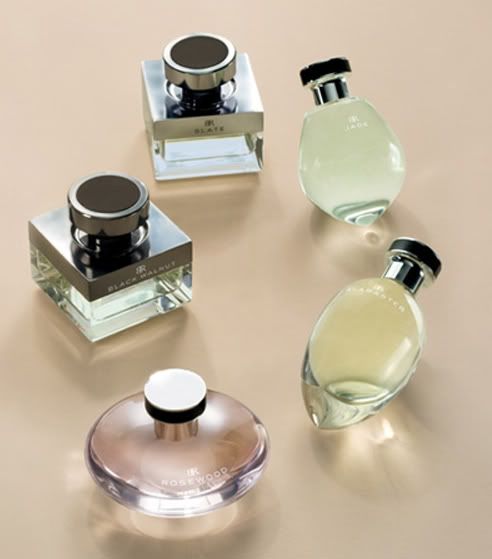 "A women who doesn't wear perfume has no future." Coco Chanel
Oh Coco. I love how she throws down these missives with such authority! Well, whether you love perfume or hate it I think we can all agree that smelling nice is a very good thing. Even if you're an obsessive showerer or someone who favors a more "European" approach, an added little spritz of something can be just the thing. Don't over do it, of course. A little dab in the crook of your arm or behind the ear—or heck, even just a spritz in the hair—and you'll smell lovely. I like to choose nice light scents, nothing too powdery or cloying. Nothing is nicer than giving someone a hug and have them says, "Oh, wow. You smell great!"
Oh and if you're someone who can't do a scent, try a lightly scented body lotion or a nice smelling hair product. I love Bumble and Bumble Brilliantine for hair.
2. PAINT YOUR NAILS.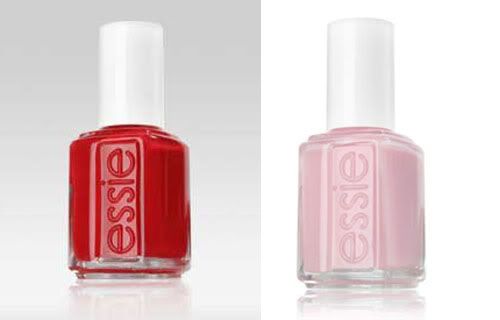 Ya know, I wish my fingernails always looked good. But honestly if you are at all crafty or have kids or like to cook or garden etc….its tough to maintain. That's why I love pale polish. Even if it chips just a bit, you don't really notice it. And for those who say you don't have time? I discovered this genius
Sally Hanson polish
that truly dries in 60 seconds. Like REALLY.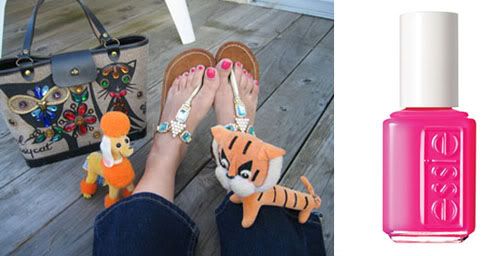 Your toesies on the other hand? Those suckers can last for quite a while. Treat yourself to a pedicure or simply paint 'em yourself. I personally lerve candy apple red or hot pink on my toes—but whatever floats your boat! And if you're a guy, you know what to do. Just keep 'em trimmed and tidy.
3. COLOR! COLOR! COLOR!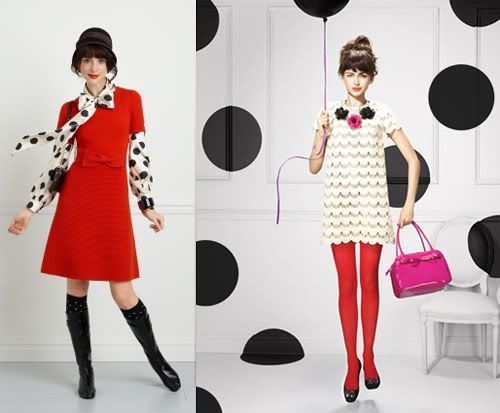 Wear something colorful. I'm always amazed when people say to me "I love that hot pink on you….but I could never pull it off." Sure you can! I admit my taste is a little louder than most, but color is always a good thing. If you're already playing with color, then BRAVO! But if you're a bit shy about dipping your toe in the rainbow try some little accent pieces. Tights in a pretty robin's egg blue or vibrant pink, flats in Kelly green or yellow, picking that red bag instead of the classic black. I promise you'll have an extra spring in your step!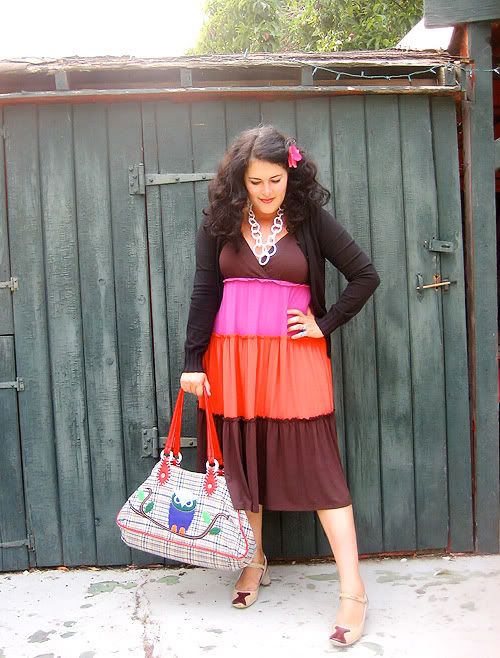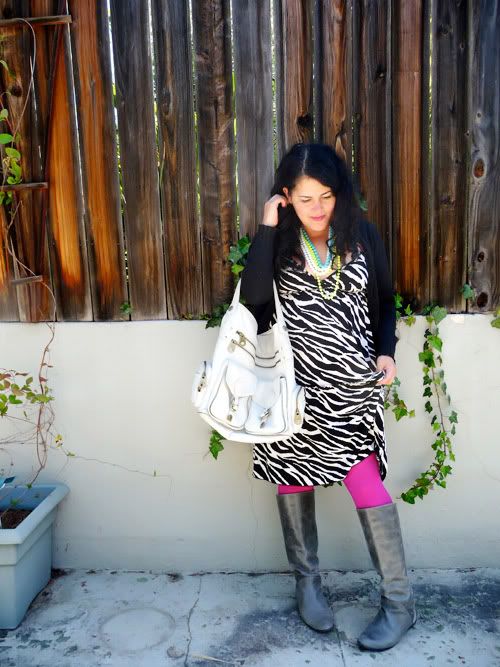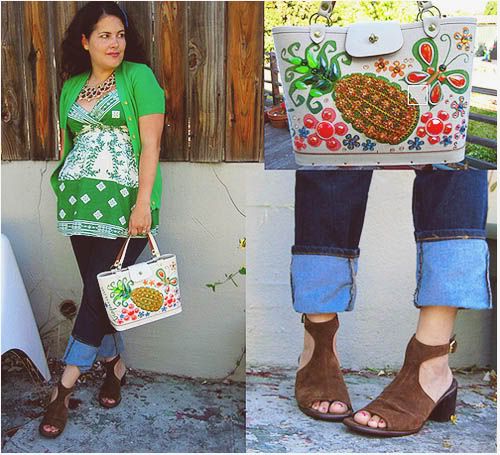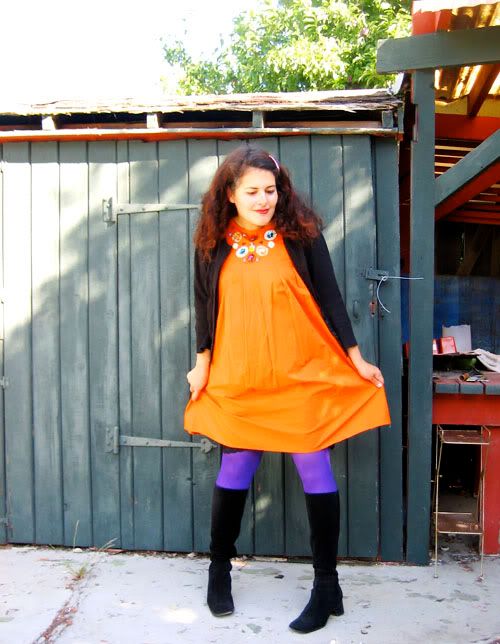 4. ACCESSORIZE.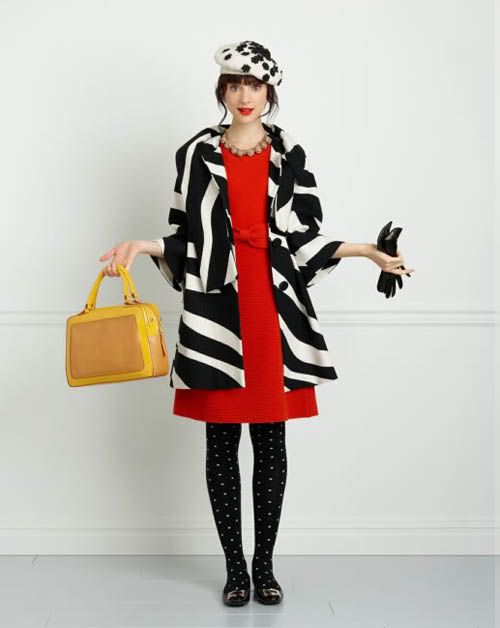 "When accessorizing, always take off the last thing you put on." — Coco Chanel

"It's better to have bad taste than no taste at all!" — Diana Vreeland.
There is a saying that the devil is in the details, and I couldn't agree more! I think accessories are where it's at, my friends. You can be wearing jeans and a tee, but add a sassy little scarf or a fun necklace and suddenly you have an "outfit". Accessories are a great way to show off your personality and add pick me up to an old outfit. But mostly I think they are FUN—and dare I say a compliment magnet. And who wouldn't feel better when they have people telling them, "Cute necklace!" all day long?? A bold piece of jewelry, a sparkly hair clip or flower, a fun cocktail ring...and honestly you can get some really fun affordable pieces at stores like Forever 21 (or as I like to call it, Forever 31. *cough*) or go the vintage route.
Now, with regards to the quotes. Coco is right. Let your accessories be the hero and don't make them complete with one another. Especially if you're a little nervous about mixing up your usual look, go for one big statement piece. Then again, I think Diana is right on the money too! I have to admit I'm a "More is MORE!" kinda gal. Hey, at least an over-embellished person has character! So don't be afraid to go bold or experiment! If you're even concerned with overdoing it, then you're probably not the kind of gal who has anything to worry about. Knowhuttamean?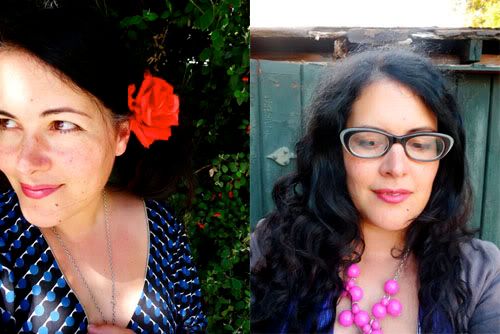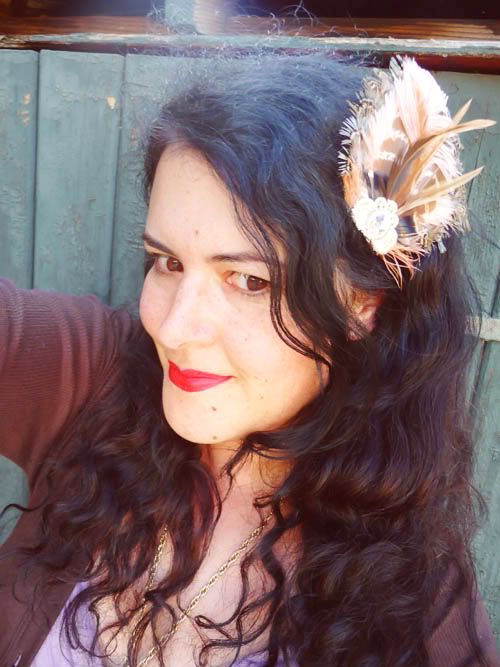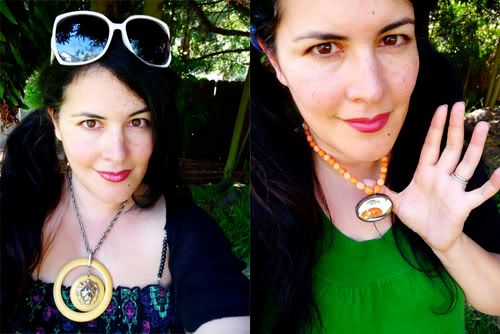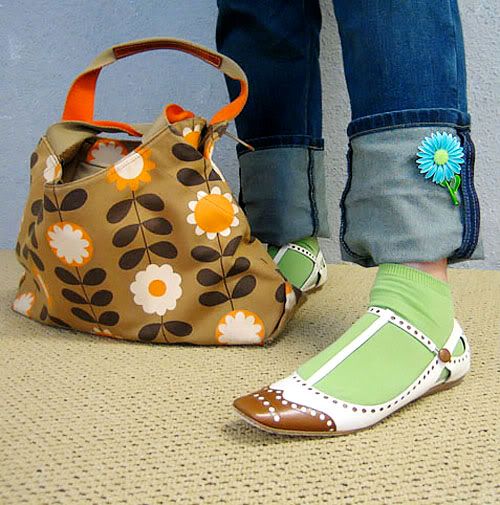 5. WEAR GIRLIE SHOES WITH A HEEL.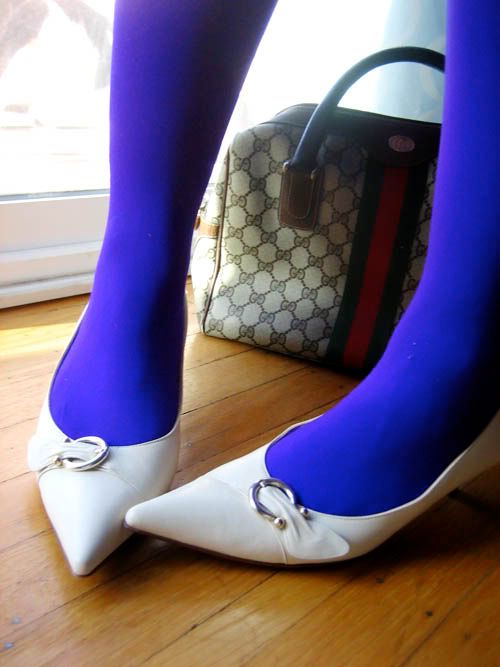 This one might surprise you, but I think a heel makes you walk a little bit taller and feel a little sassier. Let's be clear, I'm not advocating crazy stilettos, but I know whenever I wear a touch of a heel I feel just a wee bit fancier. Trust me, as a mommy I'm not tottering around in crazy sky high heels…I'm talking a low wedge, a chunky heeled boot or a mid-heel girlie shoe. Even a flat with a kitten heel. I love sneaks and ballerina flats, but I rarely feel "sassy" in 'em. Take a look at these and you'll see what I mean!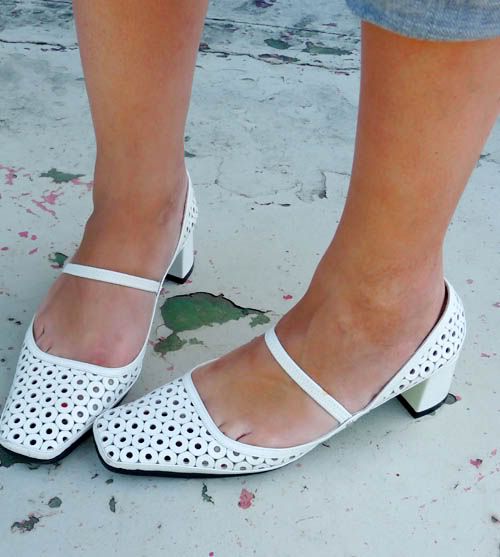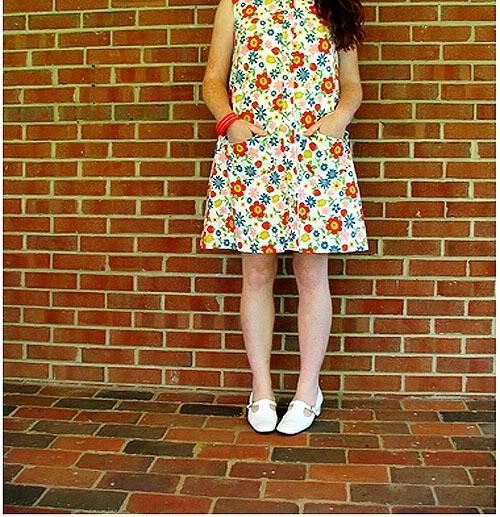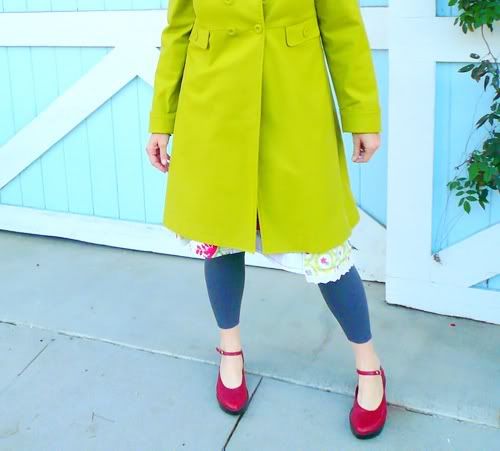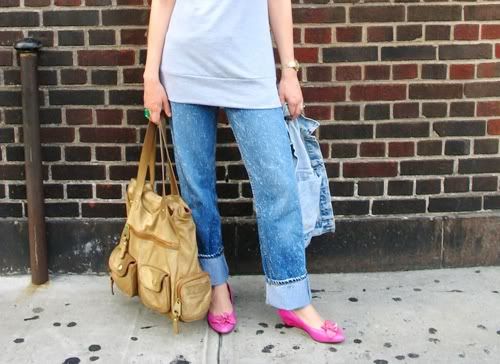 6. LIP TINT.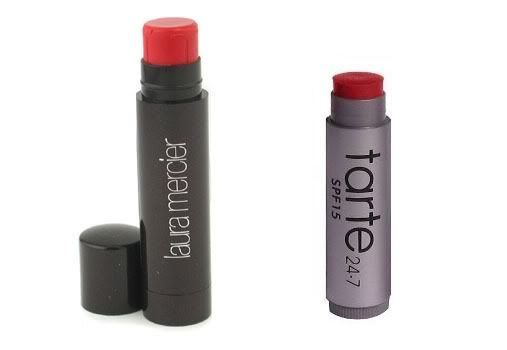 Some people love makeup. Some people think it's a chore. I truly think a little bit of makeup can make you feel just that much more put together. If you are a lipstick lover, then I know I'm preachin' to the choir. For those of you who claim they just don't have time I say: LIP TINT! These are those colored lip balms that come in a convenient chapstick-sized tube....and the best part is it can be slicked across your lips in 5 seconds flat, without a mirror. My faves are Laura Mercier HydraTint in Crimson. It looks bright red but actually just gives your lippies the sheerest little blush of color. It also has a yummy fruit smell. Tarte makes a very pretty one as well. Another fave (and even cheaper!) are the Burt's Bees Lip Shimmers, which you can get at the drug store. These smell pepperminty and make your lips tingle a little. Merlot and Raisin are my faves. Seriously, even if this is ALL YOU DO, I bet you'll look cute.
AND FINALLY...
When all else fails, go out and buy a big bouquet of flowers are a whole mess o' balloons. You'll bring a smile to your face and everyone around you. Guaranteed!