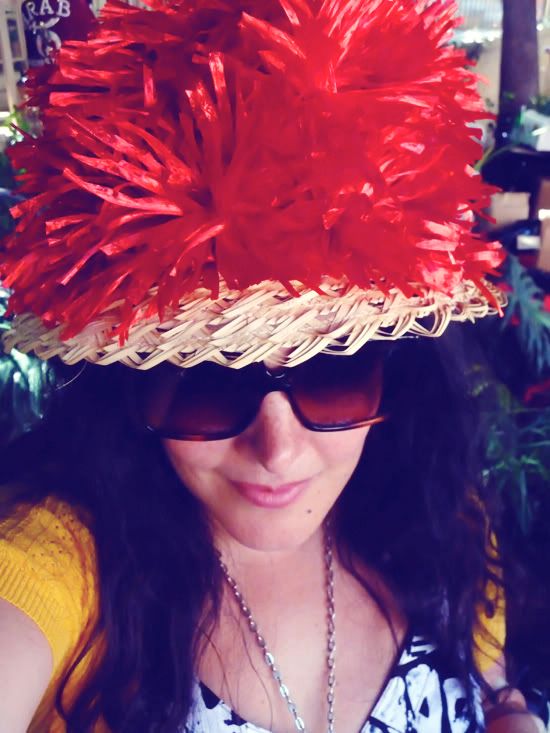 Well hello lovies....oooooh, have I got some fab vintage fashions for you. A few weeks ago Greg, Wolfie and I hit the road and flew to San Diego for Tiki Oasis 2010. It was my birthday weekend—August 22 doncha know—and it was thee BEST way to celebrate. [this is a long ass post....just to warn ya. loads of pictures...]

If you've never been to Tiki Oasis, you must. It's a sun and fun-filled weekender down in San Diego celebrating the magic of classic 50s/60s Tiki culture. Hosted by my good pals: premier Tiki expert Otto von Stroheim and his ultra lovely wife Baby Doe. It's a truly cool experience. Basically they take over the historic Hanalei hotel (now called the Crown Plaza) and fill it with amazing bands, DJs, dancers, loads of tiki mugs brimming with tasty cocktails and unique symposiums on the history of tiki. While it's a decidedly grown up affair, it's also wonderfully family friendly. Wolfie had A BLAST.

For those of you who haven't had a chance to visit me over at Modern Kiddo, my other blog, you can find a super recap of all the events at Tiki Oasis Part 1 and then Tiki Oasis Part 2, which is more focused on the Tiki Kiddos.

Today's post is mostly about the fashions. I'm not going to lie, I love a good dress up opportunity and I took FULL advantage. A bunch of you asked to see what I wore, and whoooooo sistah, all I can say is—YOU ASKED FOR IT!

We begin with ze travel outfit: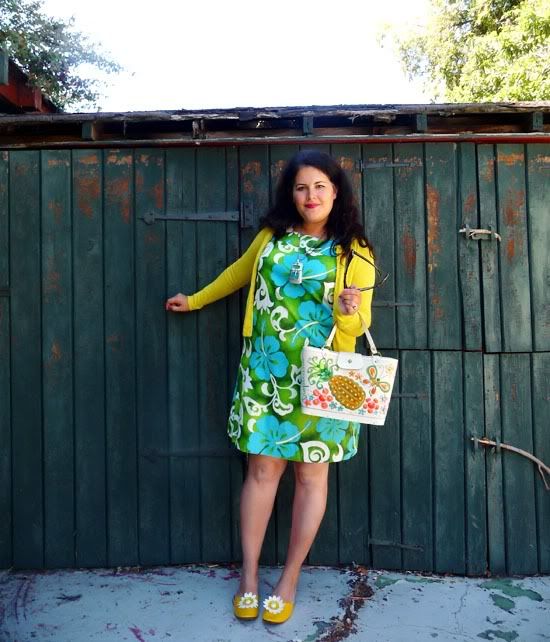 I rarely dress head-to-toe vintage but this was a special weekend and yer gonna see a lot of it here. This picture cracks me up. I'm like, defying gravity with my sideways stance. No clue what's up here! I think the wall/shed is a little crooked so maybe the pic got angled weird. On to the fashions....

+ vintage Tiki shift
+ vintage mod/tiki style pendant
+ yellow cardigan, Old Navy (keepin' it real...)
+ vintage yellow slipper shoes
+ vintage Enid Collins Pineapple Princess bag

The yellow slipper shoes are super cool, but I will admit not TOTALLY comfy. My sweet friend Pilgrim (of the phenomenal blog Draw! Pilgrim) gave me the hot tip to score these suckas.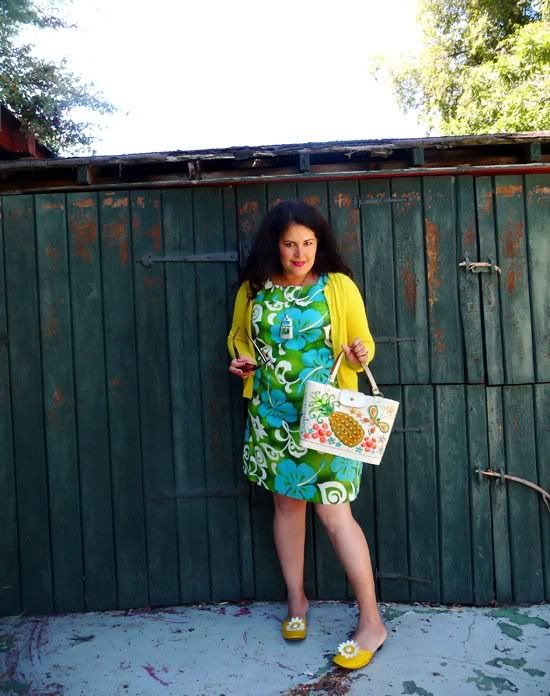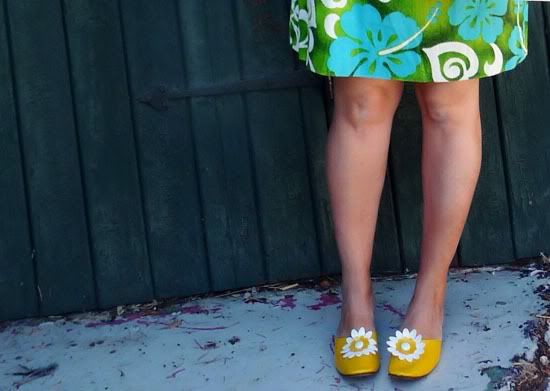 DAY ONE: THE ARRIVAL
The Hanalei hotel is fabulous. It's been refurbished but still has lots of amazing retro details. Cool pool. Waterfalls. Tikis scattered all over the place. The vibe is funky, retro fabulous.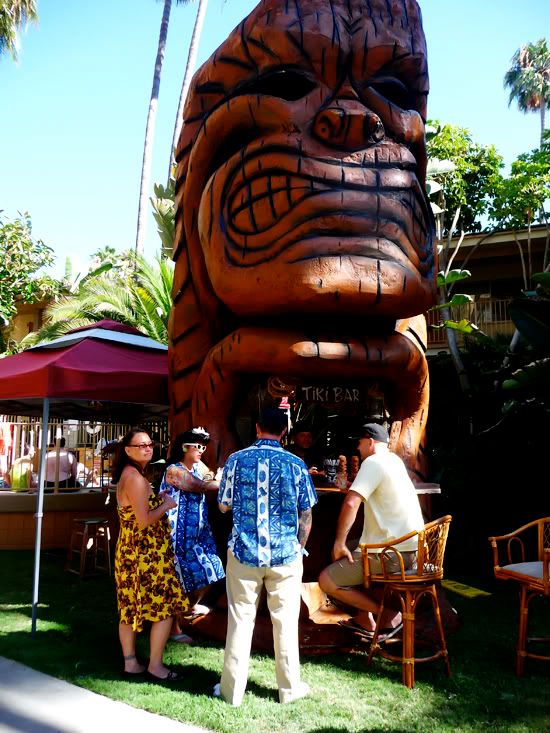 That honker of a tiki bar was brought to the hotel specially for Tiki Oasis.

All told, over a thousand people frolicked at the Oasis that weekend. During the day, you could swim or browse the amazing vendors who had set up shop on the lawn near the pool and in the hotel conference area. Vintage clothing, records, artwork, tiki mugs and necklaces, even polynesian BBQ spices. There were also a wide variety of symposiums—The History of Tiki, Rum & Chocolate, The Persuasive Power of Punch, Pin-Up Hair and Makeup, Live Tiki Carvings...it was overwhelmingly awesome. Lounging poolside was a top priority.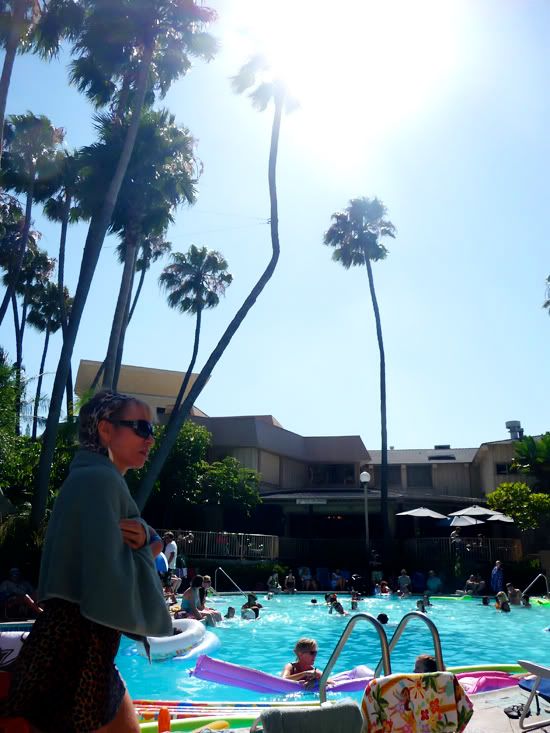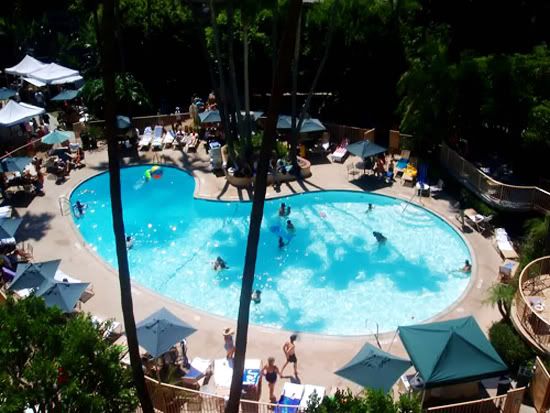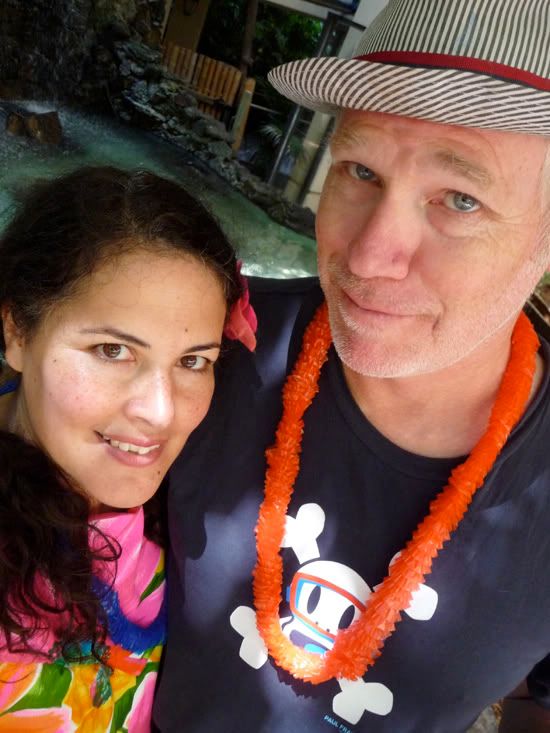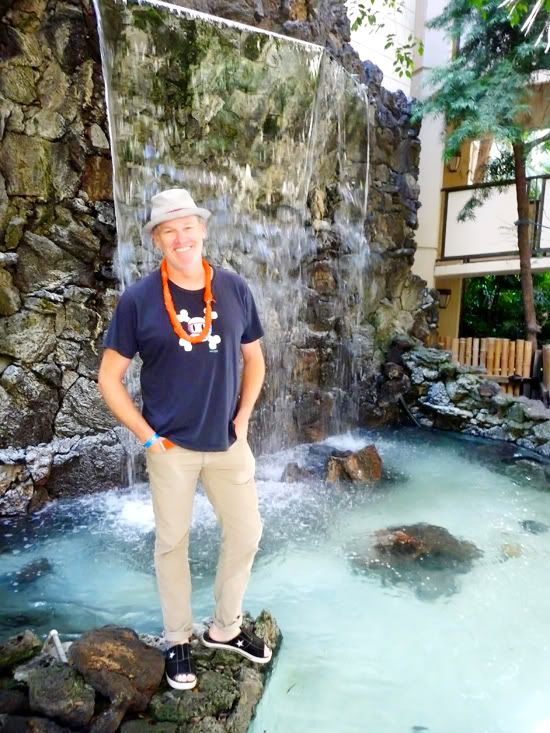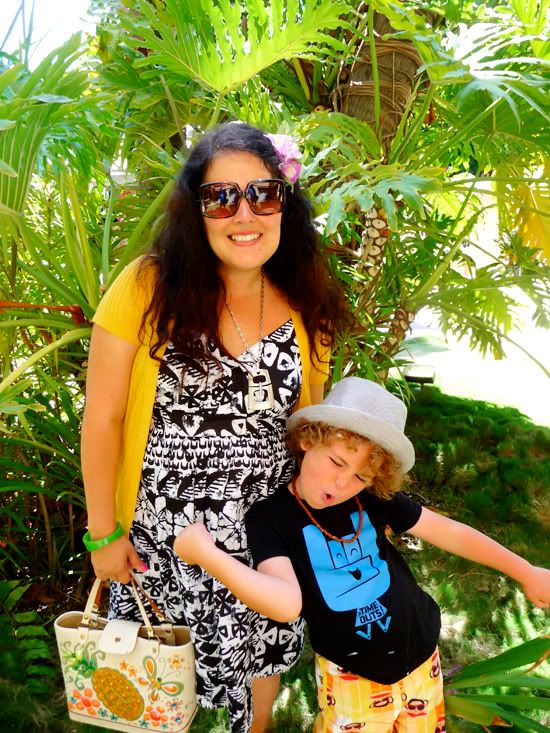 Of course I found myself pouring over the colorful clothing racks with my fabulous friend Denise. She tried to get me to by the best gold lame 60s swim suit (very Esther Williams) but it was just a tad too pricey.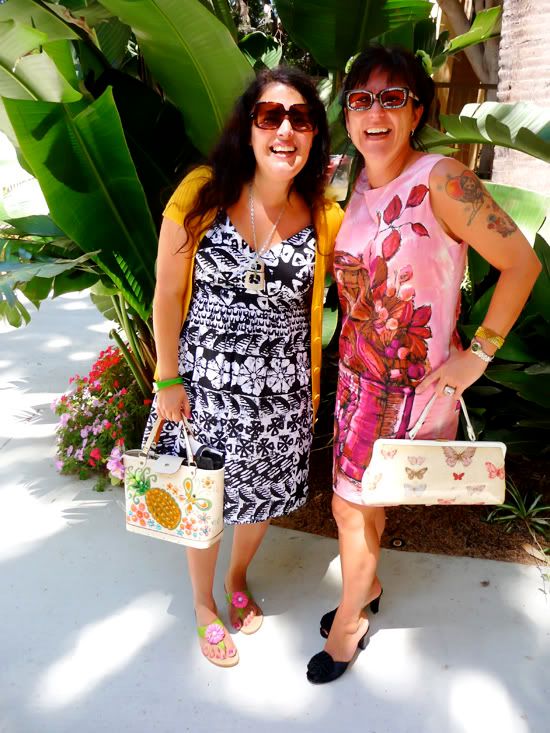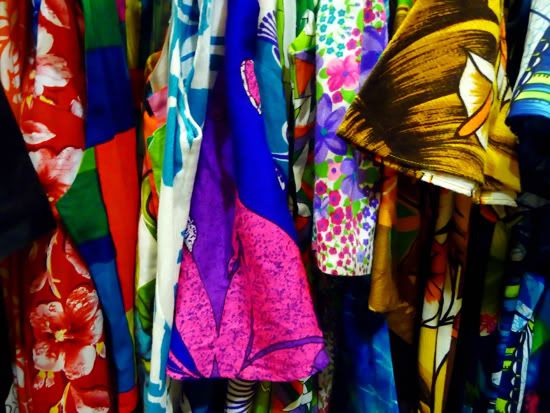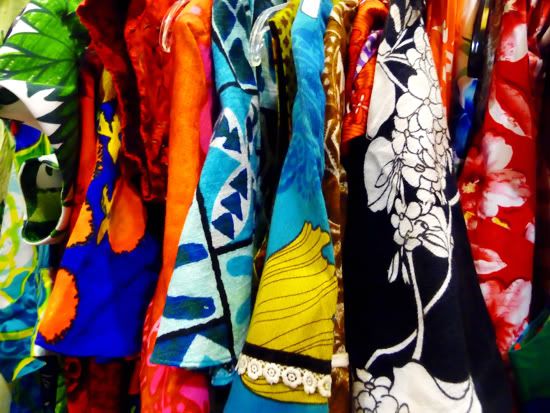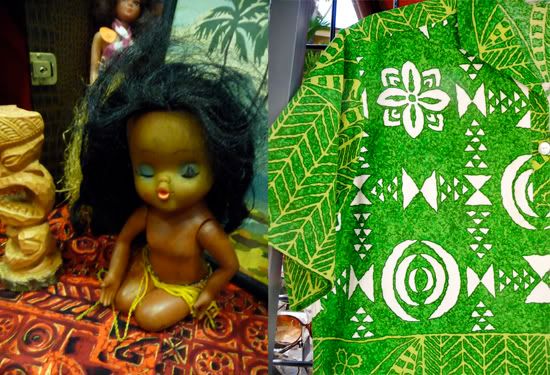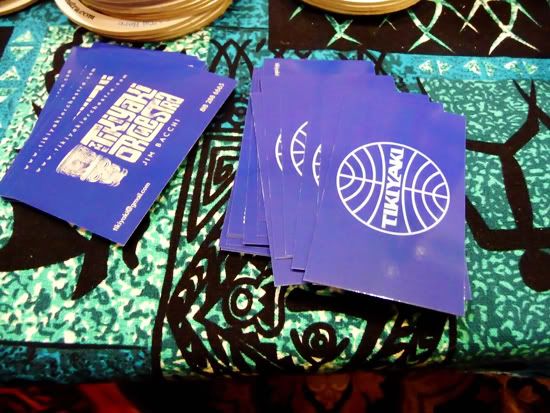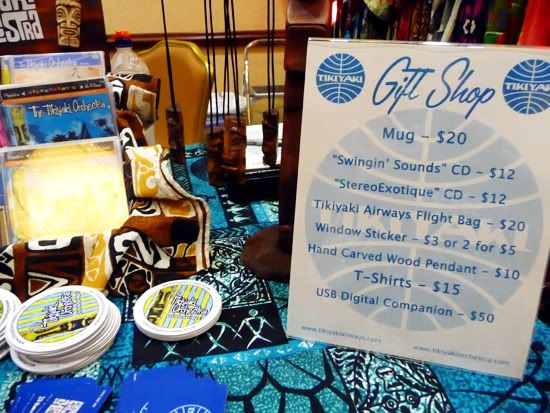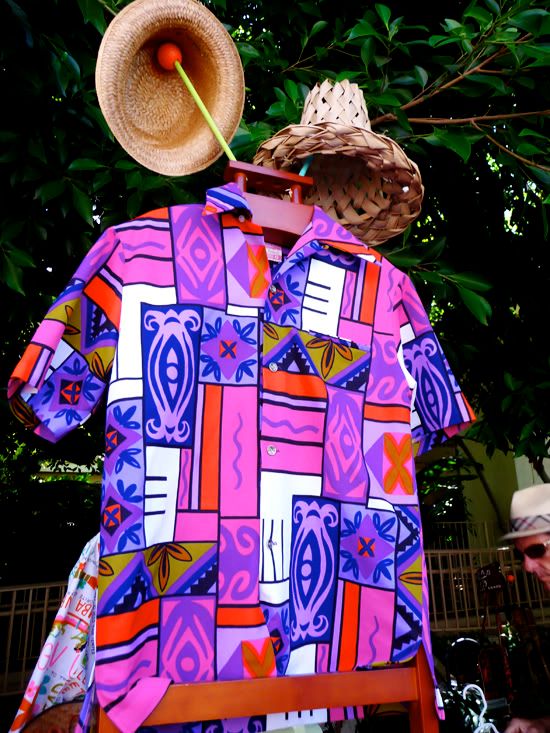 This one guy had the coolest hats EVER. My fave was the hat with the built in sunglasses. SO CUTE! I was ready to throw down a little cash for it (a girl can buy herself a bday prezzie, right?) but the guy wanted $300 for it. YEEOUCH!!!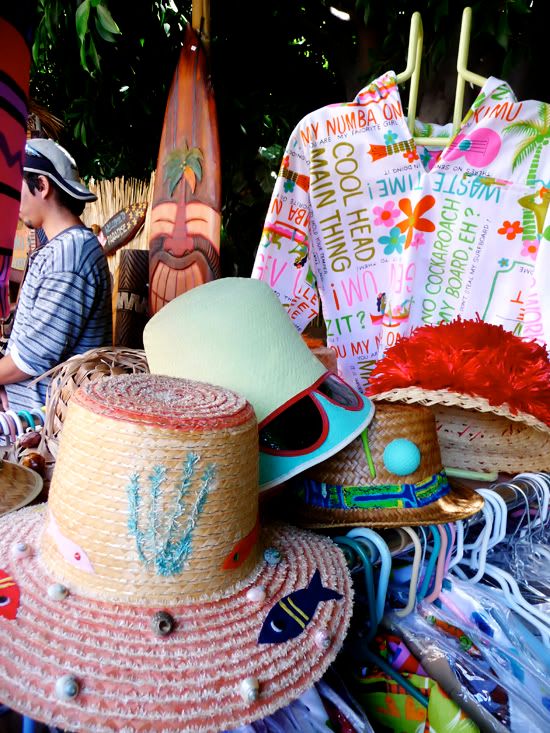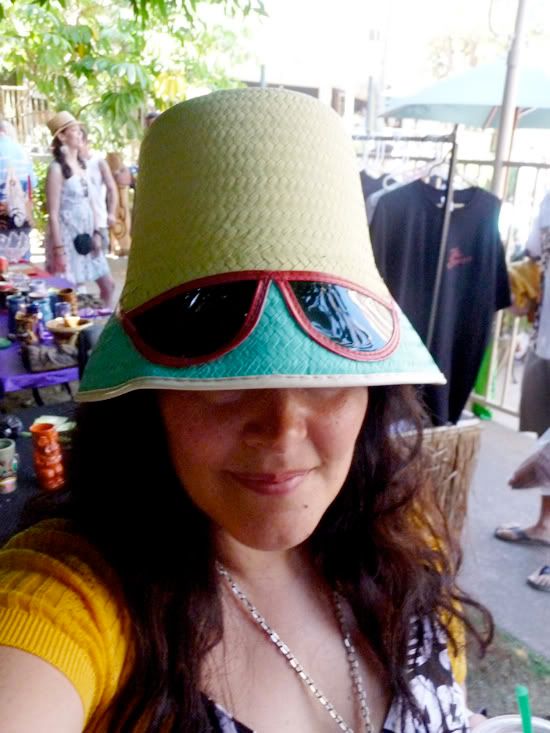 So many people were sportin' amazing outfits. Check out my glammy friends in their fashiony finest: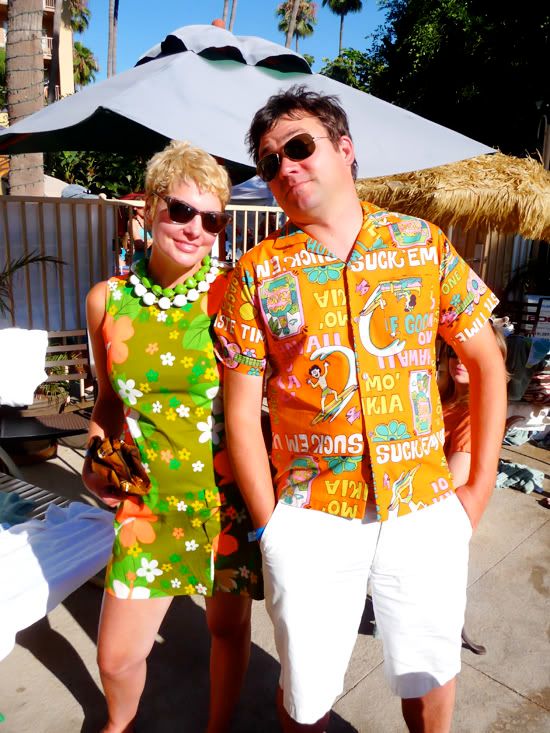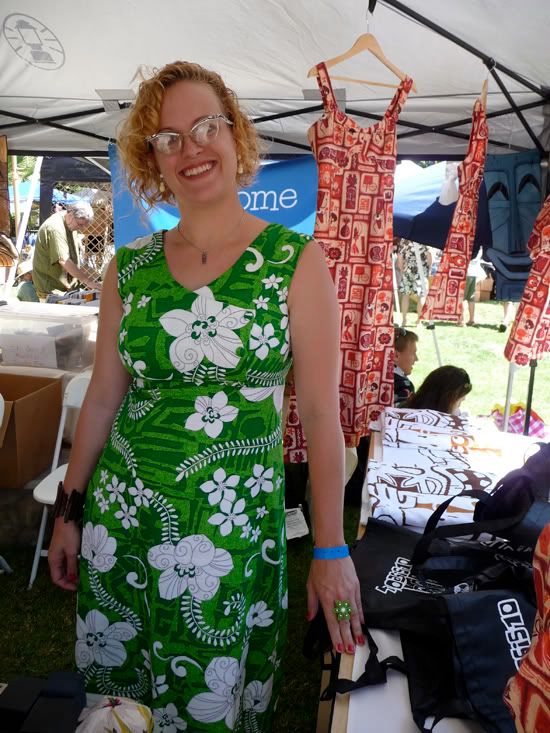 Here is Doe looking gorg in her custom Tiki Oasis dress. The fabric was designed by famously hip illustrator, SHAG.
Check out this cool girl in her RAD SUNGLASSES HAT!!!!! It was even better than the $300 one. I told her to hang on to it because clearly it's worth a bundle....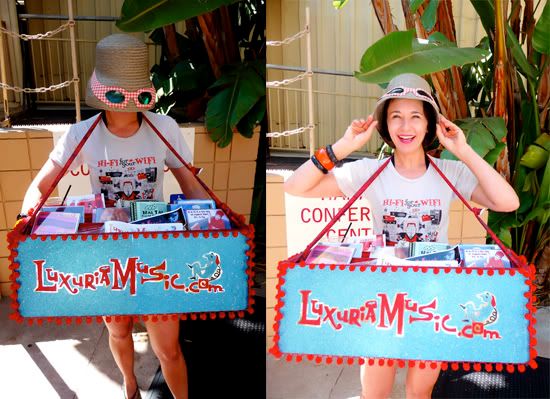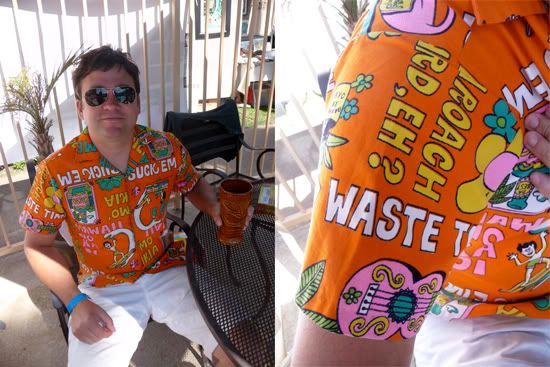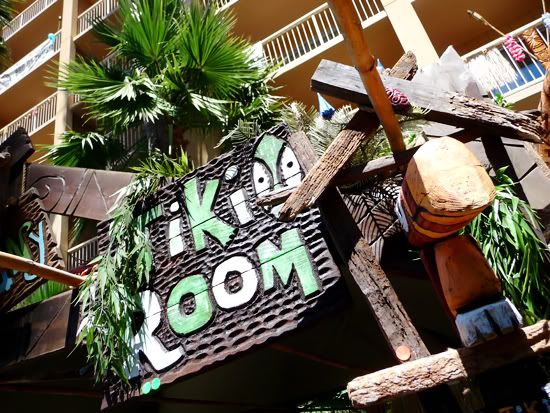 I have no clue who this dude was, but I liked his smooth Tiki Tux style...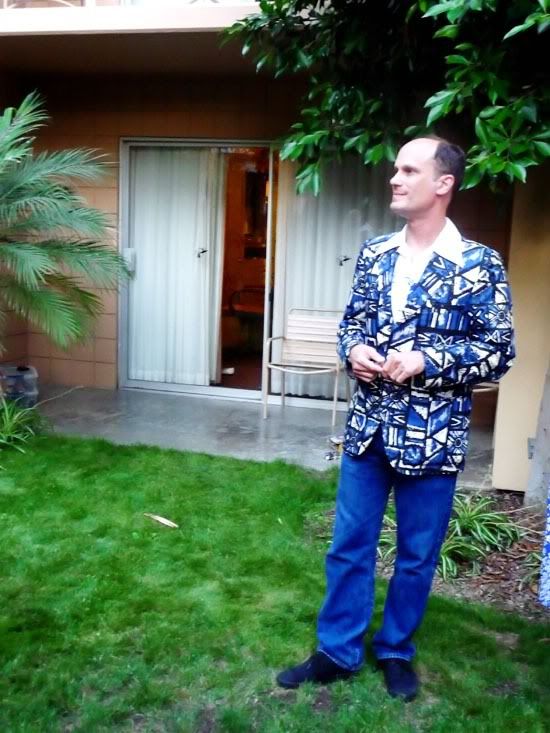 VAVOOM! There were several pin up shoots happening through out the day.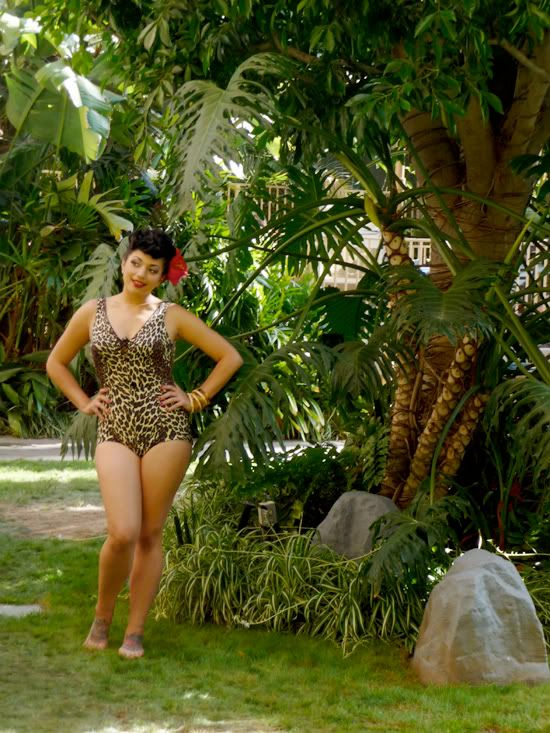 DAY TWO:
There was an awesome car show in the parking lot—Wolfie and Greg had a blast checking out all the cool cars.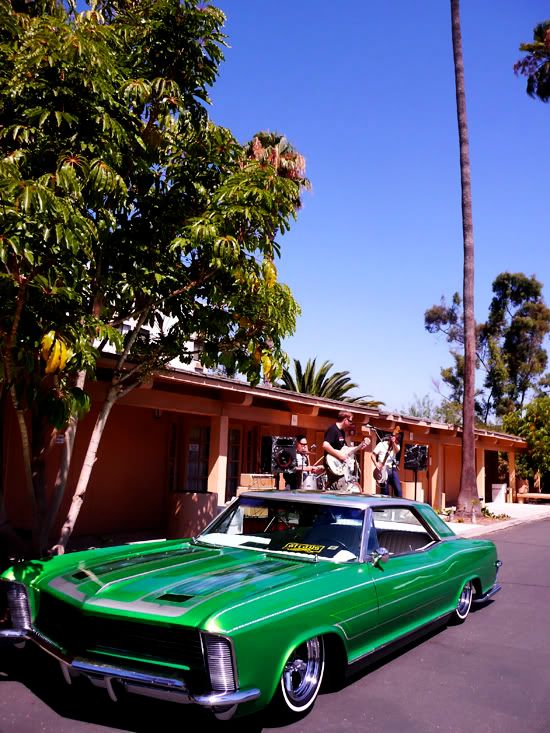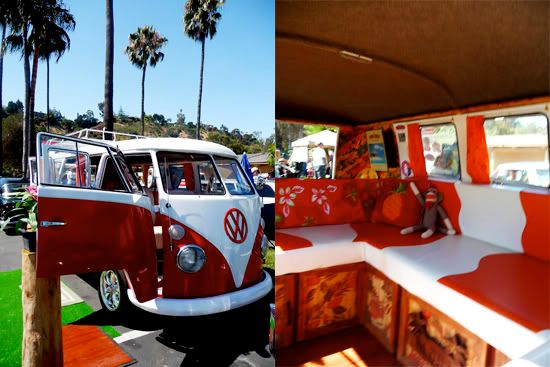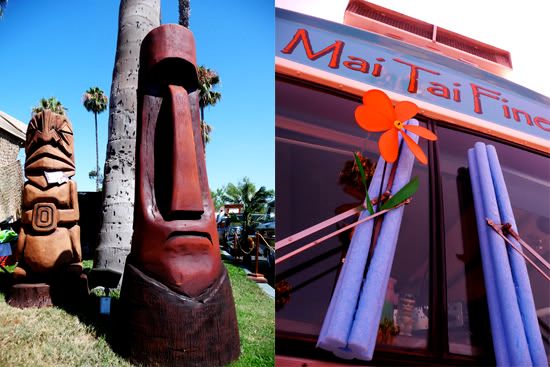 I got a lovely retro wrap-around gown to wear poolside.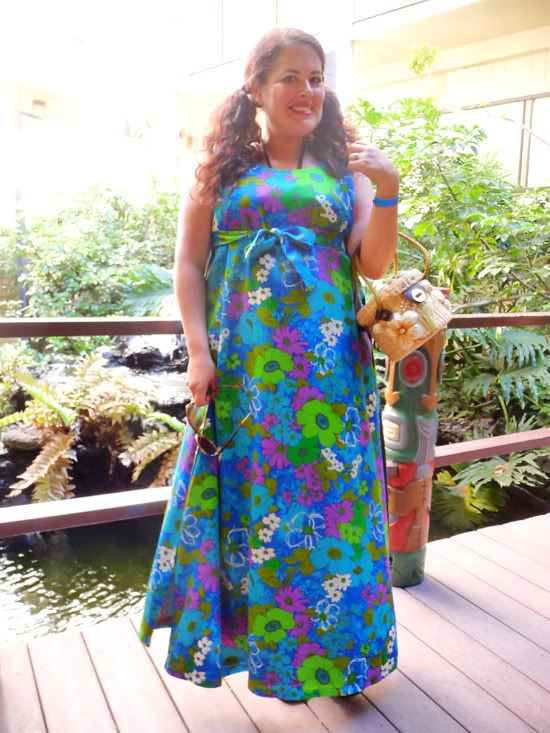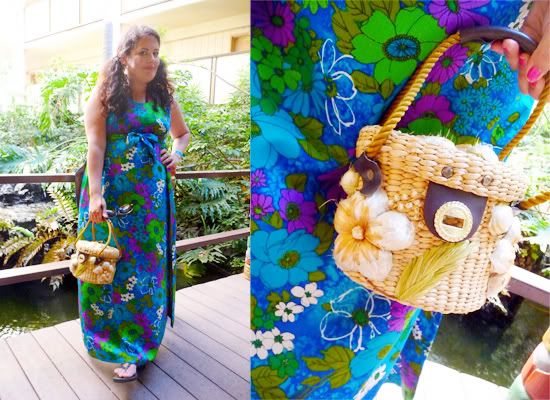 That afternoon was also the grand debut of my vintage Swim Cap. I searched high and low for this sucka. It's hard to find one that is in great shape—the rubber tends to crumble after years of sun-n-fun. This one was deadstock so I was fairly certain it wouldn't disintegrate on my head.
Every day amazing DJs spun vintage vinyl—boat loads of 50s/60s exotica, surf, lounge and more. The vibe was super chill and cool. You honestly felt like you were living in a vintage movie....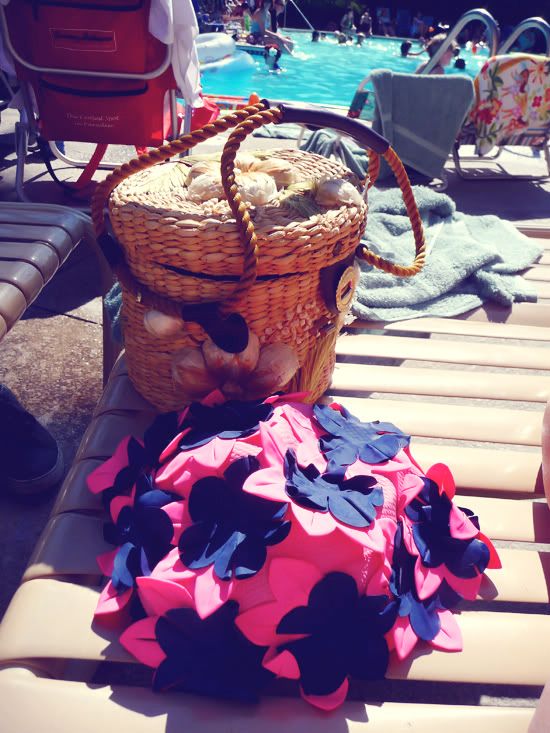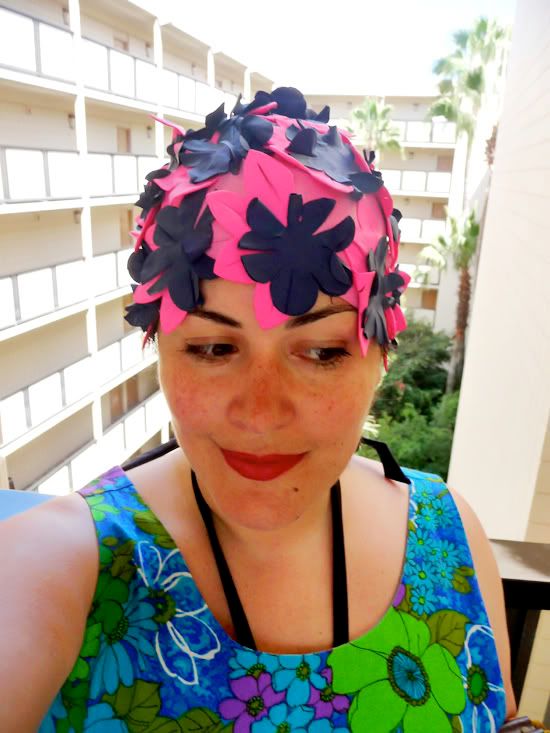 Listen, I wasn't jokin' around when I said I was all about the outfits for this shindig. Here's what I wore for the evening show. And yes, we're at outfit #3. Whoo ahhh!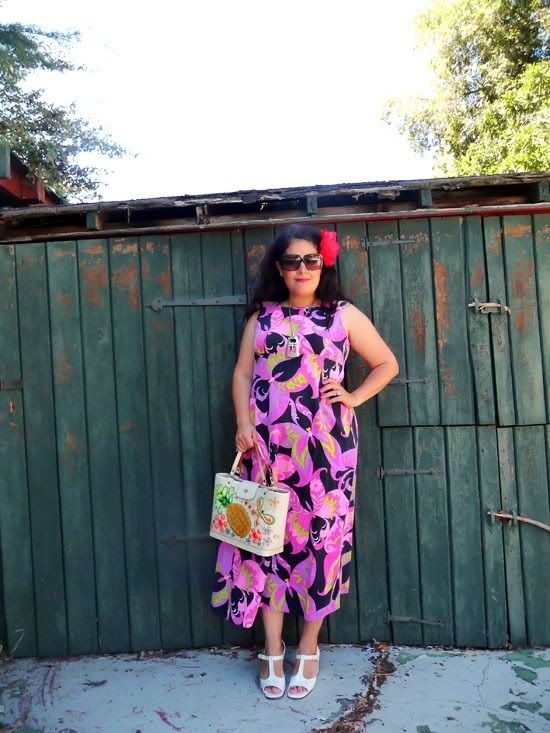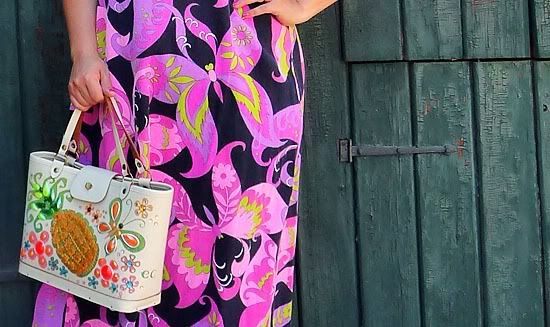 It's not required by any means, but loads of people got dolled up in their vintage Hawaiiana finest. High off my vintage bathing cap victory, I decided to bust out THE BIG BUN for Saturday night! This was a big ol hair piece that cracked me up.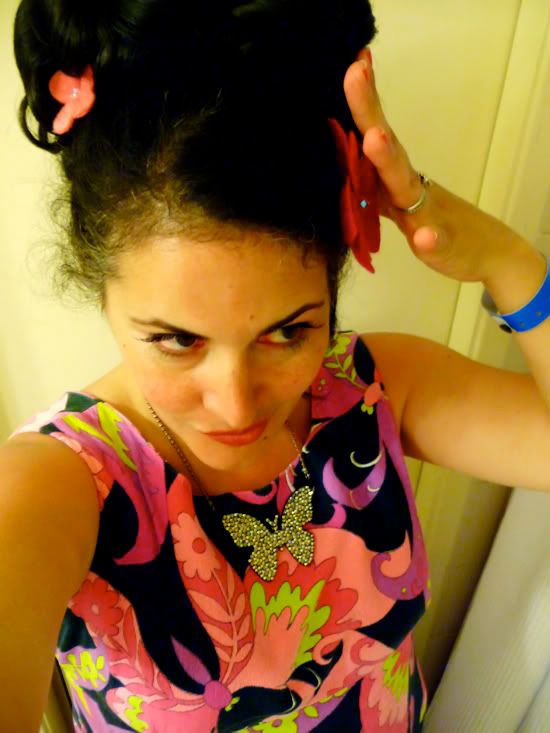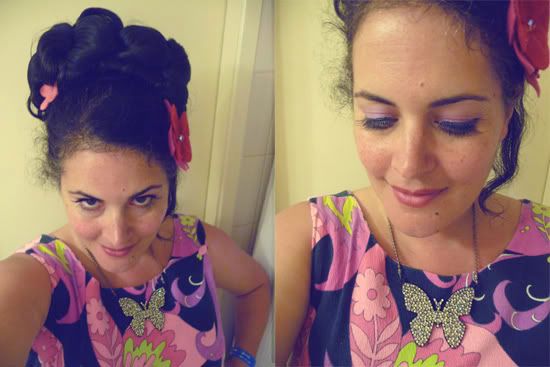 "You like me hairpees?"  (yes....it sounds like herpes....)
As the sun set, the vendor booths disappeared only to be replaced by lawn chairs...and the night time entertainment began. Fun bands and dance performances. Wolfie was allowed to stay up a little later to watch the first few performances.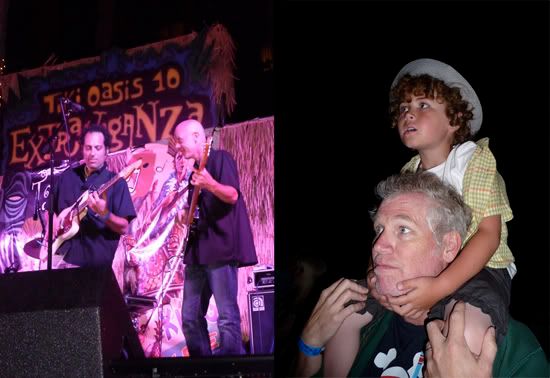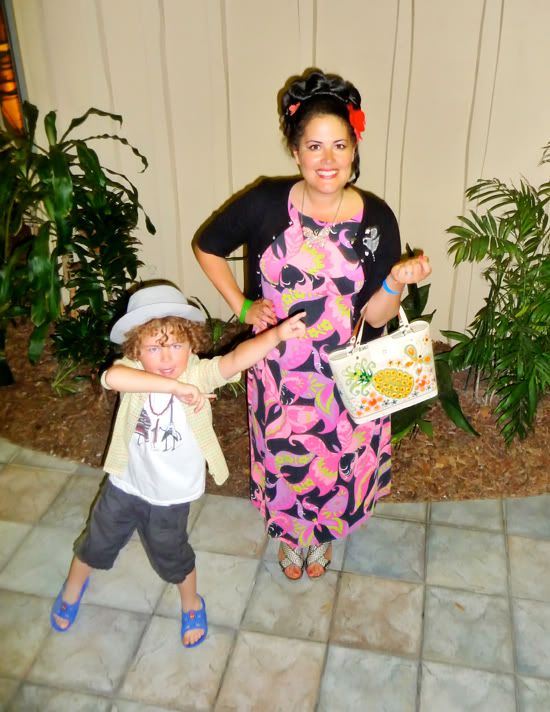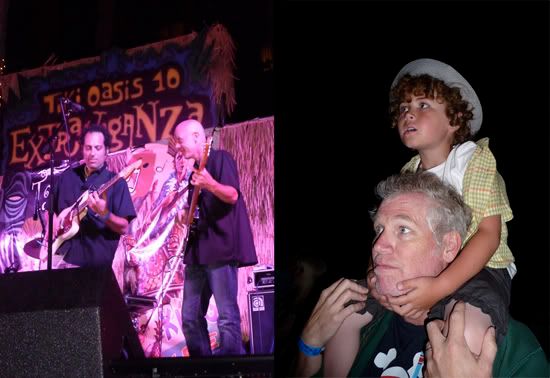 One of my fave acts were the kitschy cool Lampshades, a faux lounge act featuring Kate Flannery from The Office. They were hilarious.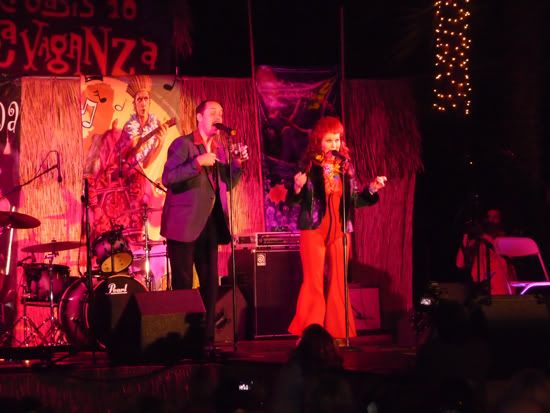 Hangin' with Kate in one of the room parties. (Greg kindly put Wolfie to bed and let mama have a lil late night  birthday fun...)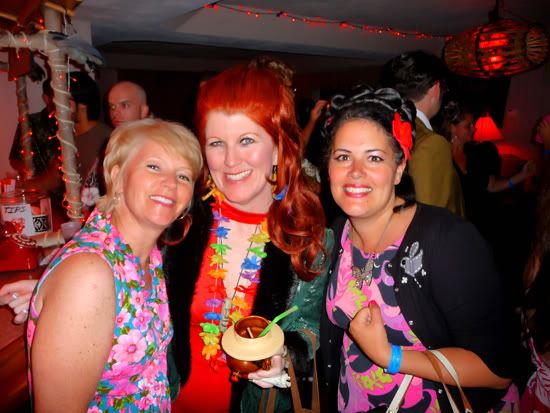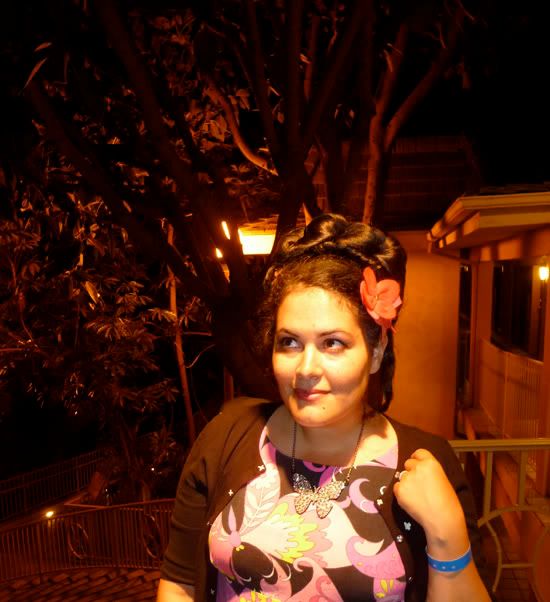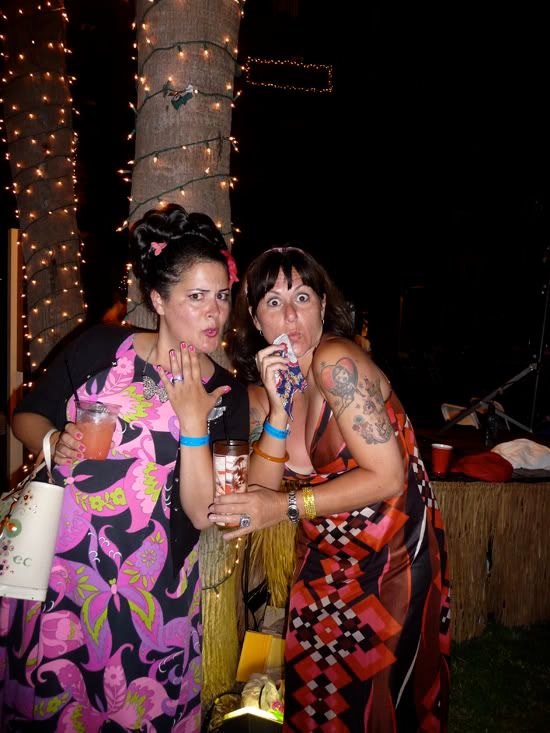 My friends Chrissy and Denise....Denise bought her groovy dress at my Vintage Clothing sale a few weeks ago!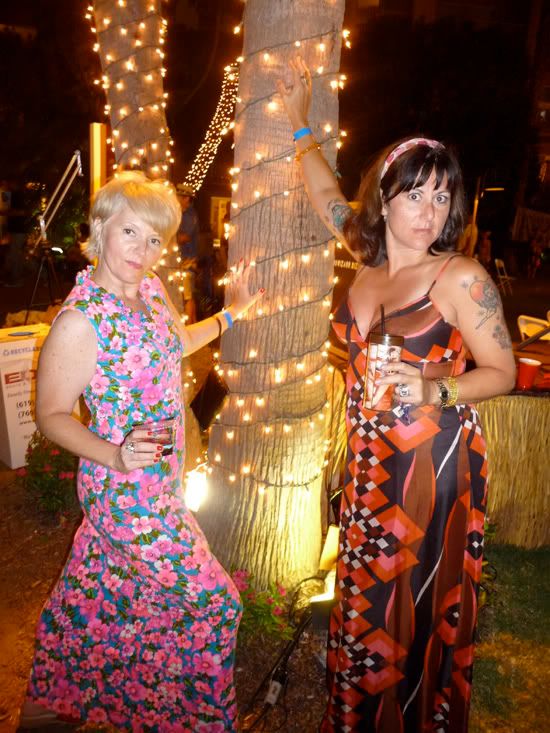 Every night there were a series of themed room parties—each with specialty drinks. The "Tiki Hell" room played Jimmy Buffet and was, indeed, a nightmare. (The place looked amazing....super great decorations) "Tiki Heaven" had drinks served in real pineapples for the first 100 peeps. Yummmm.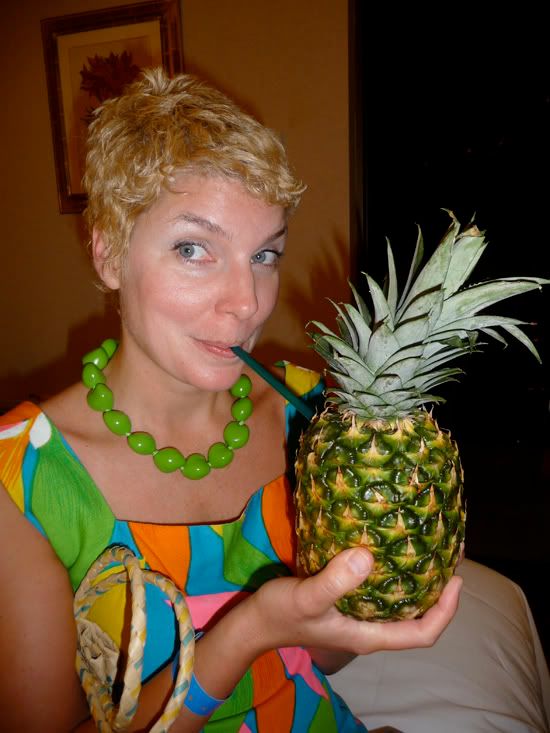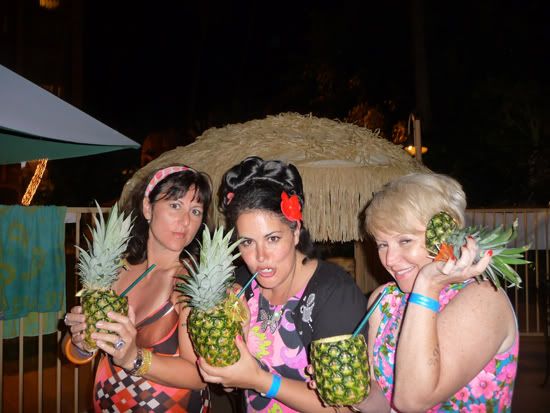 DAY THREE:
We went browsing around San Diego, had brunch at a great little restaurant and, of course, found a cool vintage place. I'm totally spacing on the name. Oh oh, FROCK YOU. How could I ever fergit that??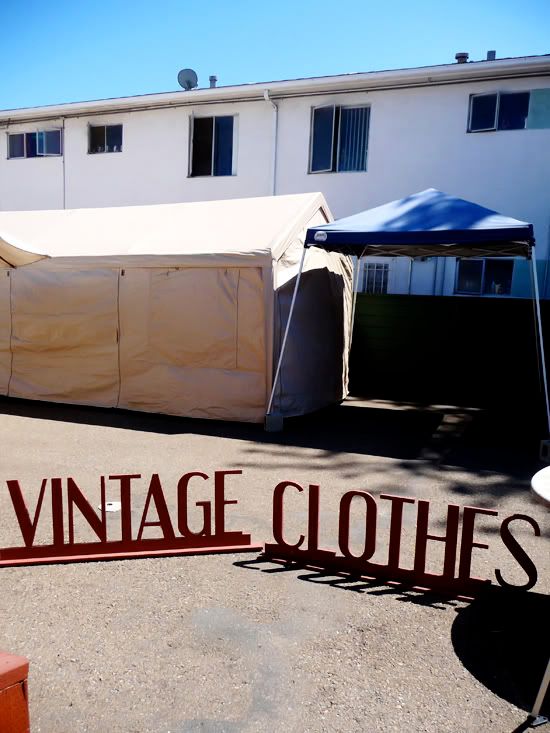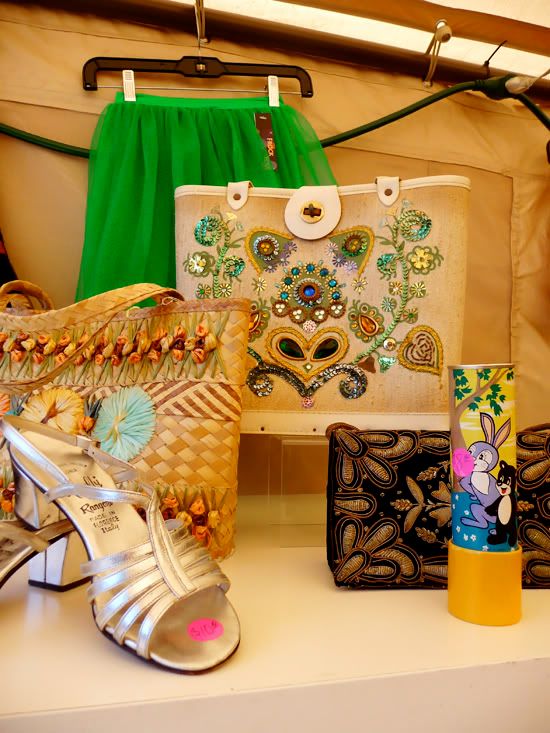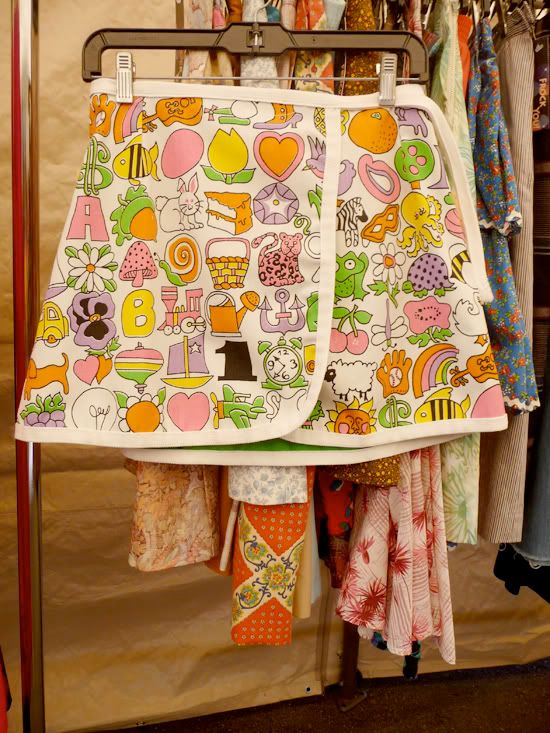 That crazy poodle is a water bottle cozy (!!!!!!)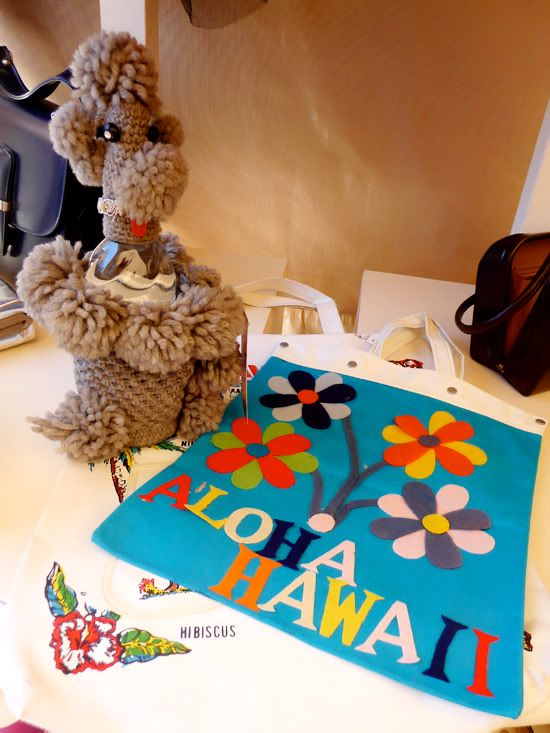 Awww yeah, got me a cool pair of $10 chooz!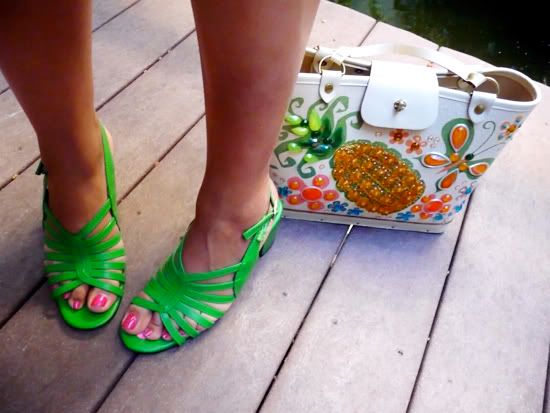 Oh wait, what's that? I haven't had an outfit change.....hah. Here we go. Casual Hawaiian Modern with mah Jackie Os—these Nina Ricci sunglasses are the same style Jacquiline Onassis wore back in the day. My awesome pal Becky, from
The Bubb Report
, hooked me up with them. They are huge. I love 'em.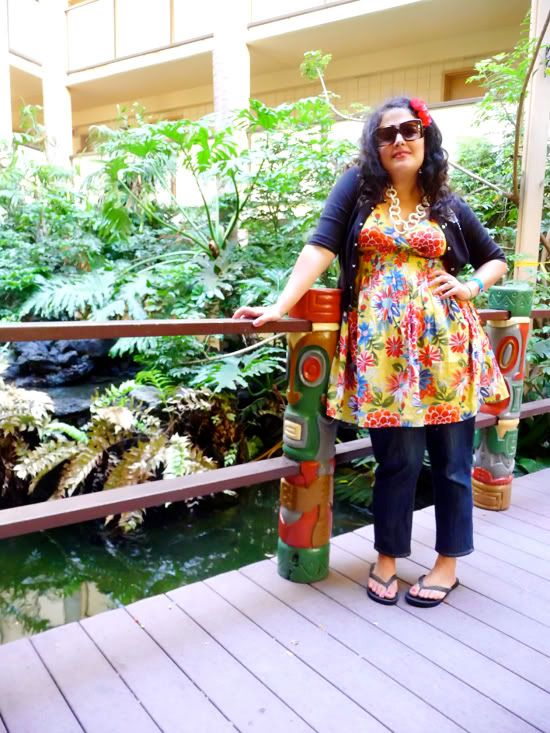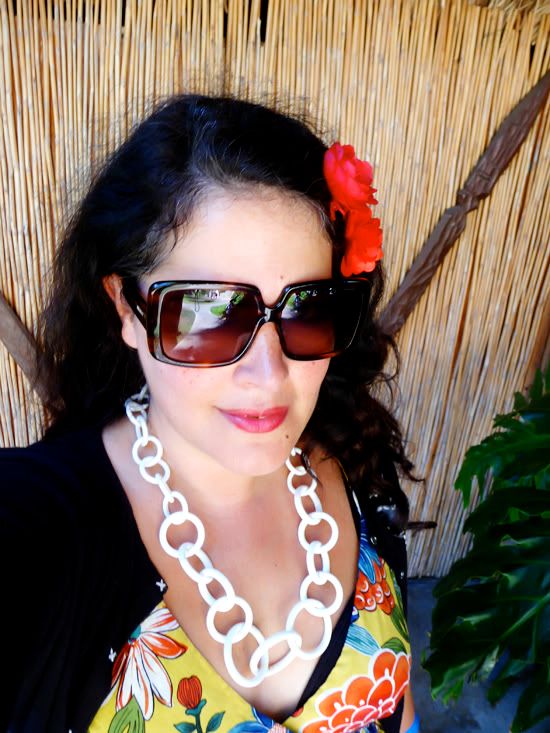 All in all it was one helluva time. I leave you with one final outfit....which was as colorful, fun and sunny as the whole weekend. *mwuah!*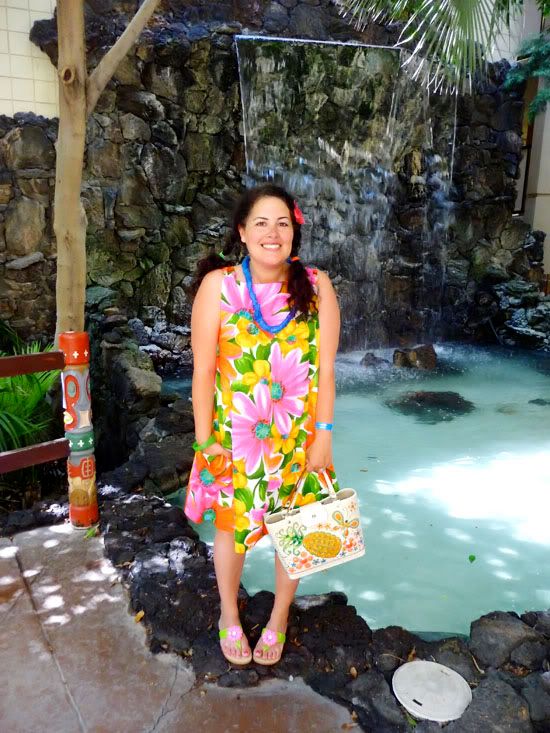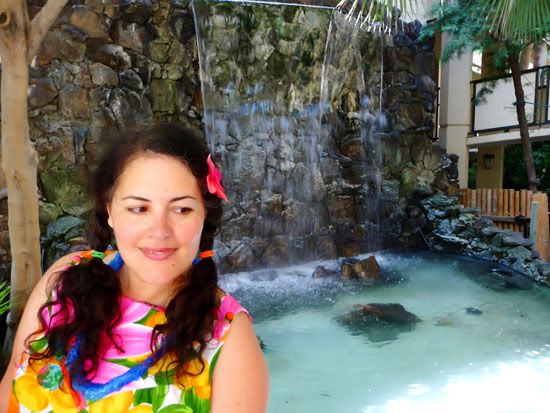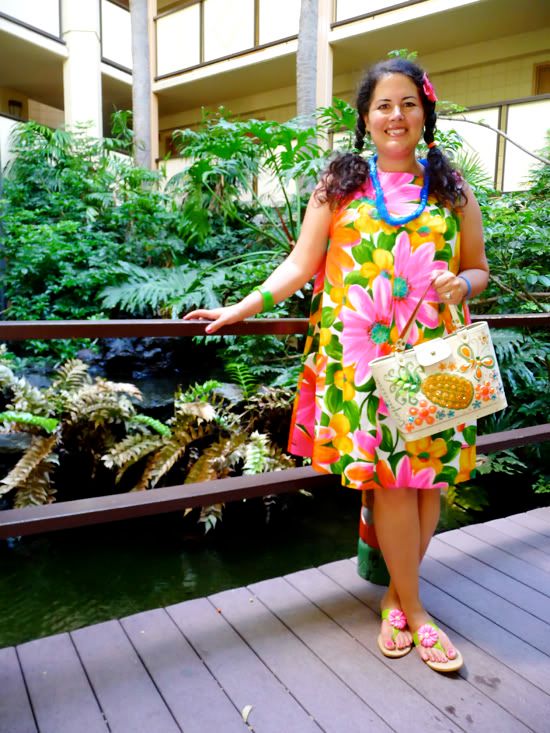 And seriously, you GOTS ta come next year...