It's been hot hot hot here in Northern California so we've been eating outside all week and there is really nothing better. The sky turns that amazing golden color and the hot air becomes just a touch cooler. To beat the heat, I bought a big ol tasty watermelon that we've been snacking on. A nice slab of crisp, juicy watermelon is just the thing on a hot summery (aka April in San Francisco) day. Last night I decided to experiment and try the watermelon in a salad. It may sound weird (and I definitely got a few nervous looks from the hubs while I was chopping away), but I have to say it was pretty darn tasty. Super refreshing and the perfect touch of sweetness.



Alex's Sweet Summer Salad
+ salad greens (we used mache from Trader Joe's)
+ thinly sliced red onions
+ chopped avocado
+ feta cheese, crumbled
+ chopped candied pecans for a lil crunch
+ watermelon
I dressed it in a little balsamic & olive oil salad dressing but you could use whatever you like. YUM!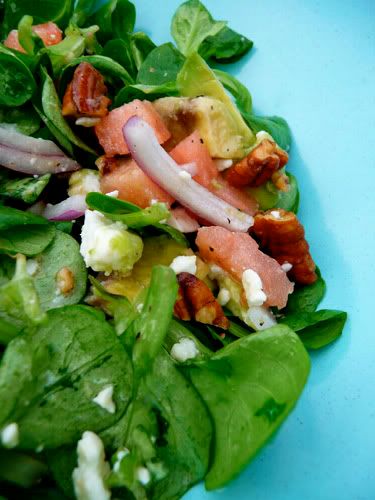 A fun tidbit about mache. These are the same tender little greens that Rapunzel's mother craved while she was pregnant. Her husband snuck into the neighbors yard to pluck the sweet leaves for her—of course she turned out to be a witch and imprisoned their daughter in a tower. Not the most neighborly lady, eh?