Since I shared those retro Holiday photos, I thought it would be fun to share some of my own "retro" pics. It's kind of a random collection—most of the albums back home in Michigan at my parents' house—but here are a handful of my memories!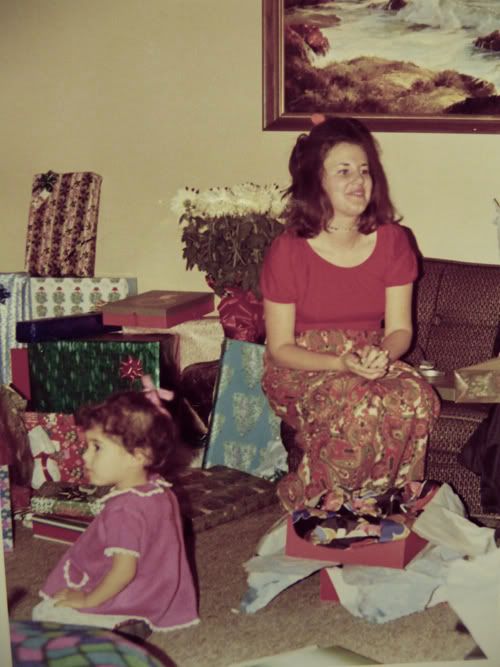 Aww, it's meee and my pretty mama. This is at my grandma's house in San Diego.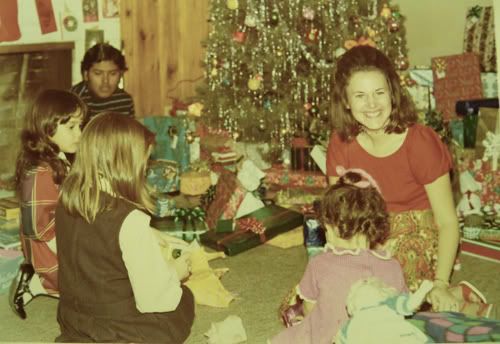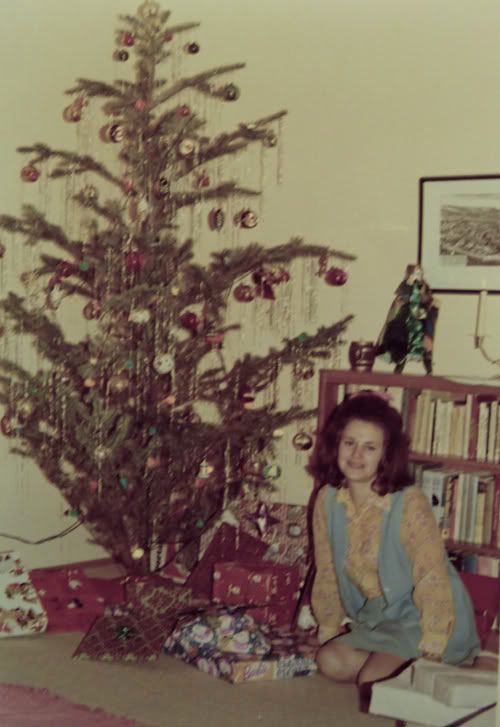 I'm pretty sure this is the same year, but at our own apartment at Married Student Housing, at U.C.S.D. That tinsel is very German—although I noticed it on the tree at my grandma's house (in the first photo), so maybe it was popular in general in the 70s. Do you remember tinsel on your tree back in the day?? I don't know if they even sell it anymore. Hmmm.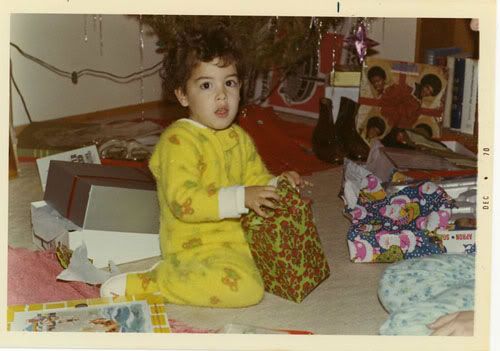 In the background you can see my Top Favorite Christmas Album of All Time—The Jackson 5 Christmas Album. We still have it and still listen to it every year! Michael Jackson singing "Up On the Housetop" is the best.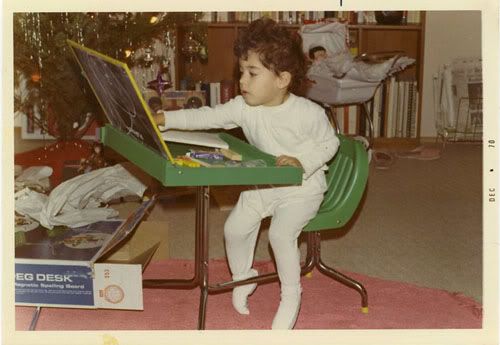 Christmas morning, my first little desk! I loved that awesome dolly carriage too.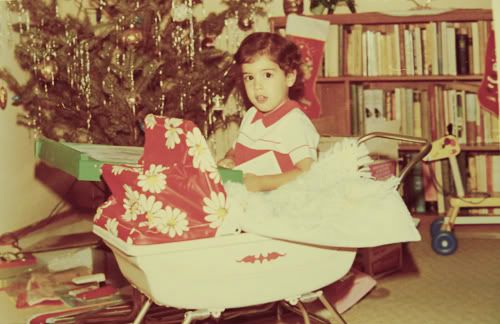 See? Told ya I was smitten with my carriage! This is later in the day, and I'm all dolled up. Check out the cool Playskool giraffe in the background. I sooo wanted one of those for Wolfie when he was little, but they were going for a bundle on eBay.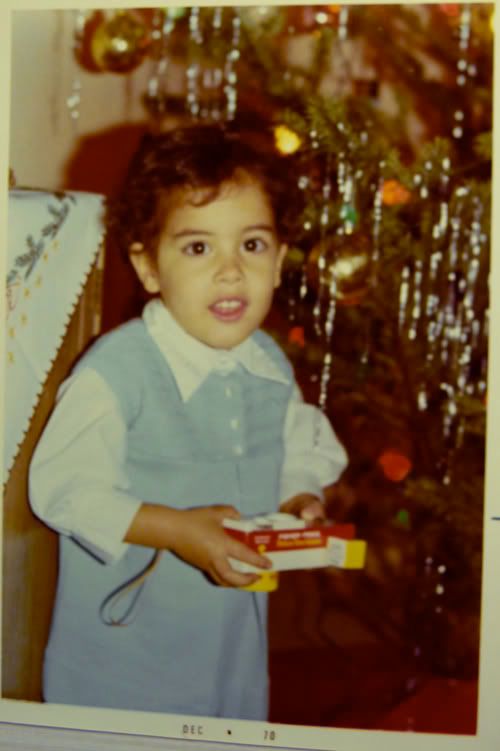 Me and my little Fisher-Price Camera.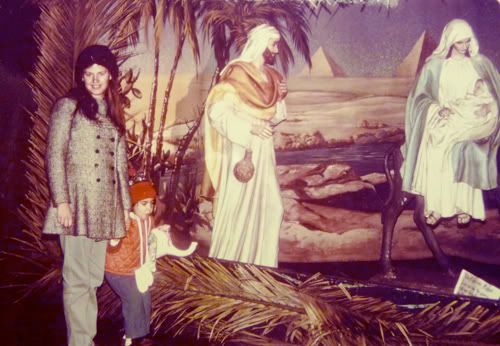 My mom looks like a modern day hipster here, with her groovy fur hat and cool coat. I'm holding Pinkie, my little pink elephant. My godmother made him for me and he had these amazing psychedelic fabric ears. We're at Balboa Park in San Diego.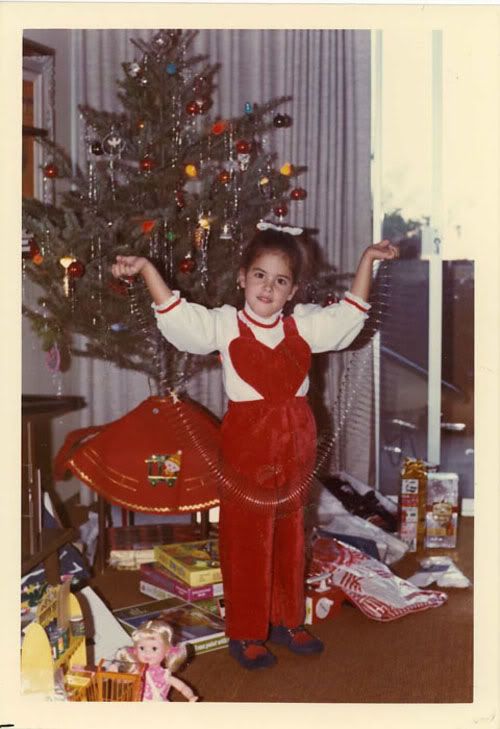 My mom has great style and I have always loved this little outfit she dressed me in—red velveteen overalls with heart bib and even hearts on my lil blue suede shoes! I was such a girlie girl when I was little, I looooved dressing up and really loved dresses. In fact, I hated to wear pants and my mom reminded me, "Was it ever hard to get you into that little outfit!" I seem to remember that I was pleased by the red velvet trim on my ruffly shirt. Hmmm.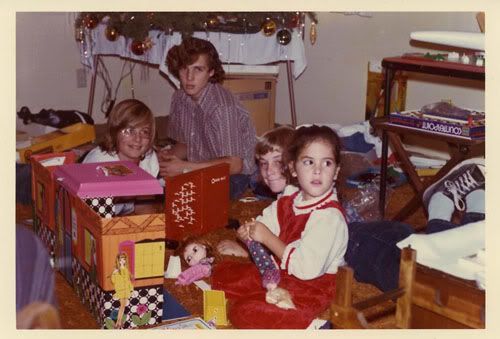 Aw yeah, this was 1973, the year I got my Blythe doll AND the Barbie townhouse. Twas an excellent year of presents for wee Alexandra.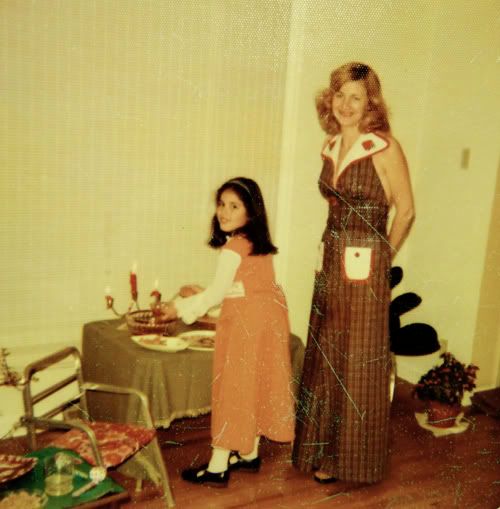 Now we're in Flint, Michigan. Look how adorable my mom is in her long dress—there are strawberries appliques on the collar. Cuteness!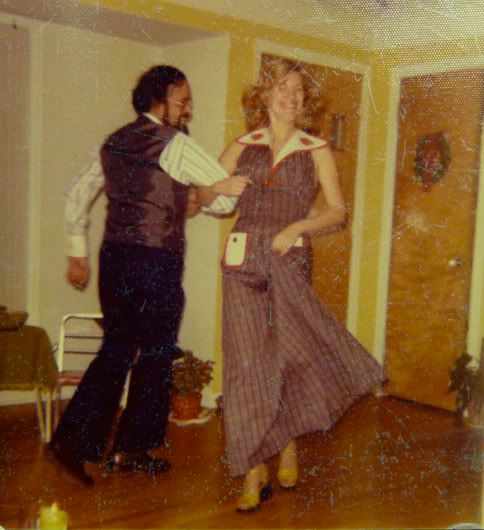 These pictures totally make me smile. check out how fun my parents are cuttin' a rug Christmas eve! I look at our little house and there's hardly any furniture. My dad was a young college professor and it's not like he made a bundle, but as kids we were never aware that times might have been tight here and there. My parents are awesome. I can't wait to see them next week.