I'm totally excited to see Tim Burton's Alice in Wonderland. I'm sure you've seen the photos, as they've been making the rounds on the blogs. It really looks like its going to be an over the top visual dee-lite. I was thinking about Alice and was reminded of that great photoshoot in Vogue a year or so ago. Model Natalia Vodianova portrayed Alice and each spread featured a different designer. The whole mess o' fabulosity was shot by Annie Leibovitz. Pretty good stuff.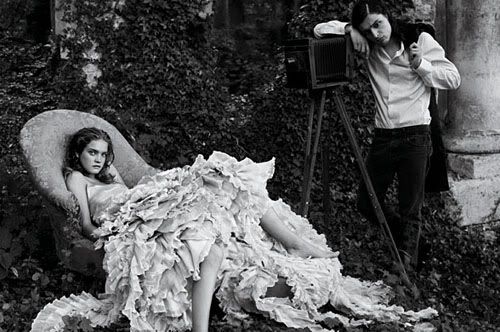 Olivier Theyskens as Lewis Carroll photographing young Alice LIddell.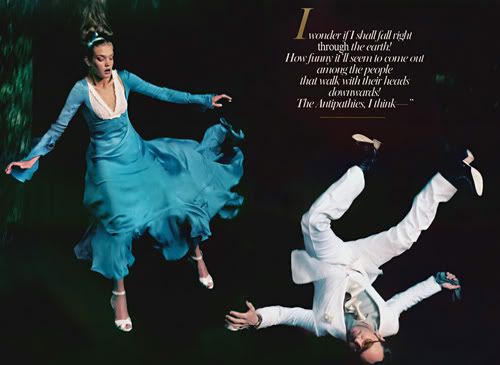 Down the Rabbit Hole: Faster, faster, faster she fell! Chasing Tom Ford's White Rabbit, our Alice disappears down the never-ending dark passage.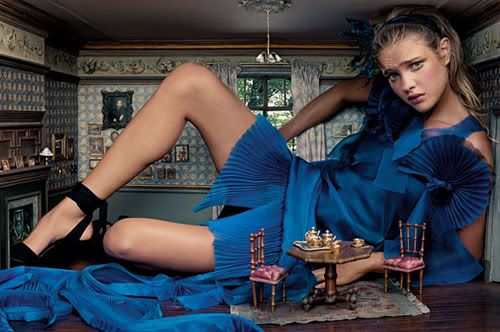 Drink Me. How was Alice to know the innocent little bottle would make her grow to such a size? As Helmut Lang watched from the wall, she curled her legs up and hoped the designer's organza minidress wouldn't be crushed by her startling height.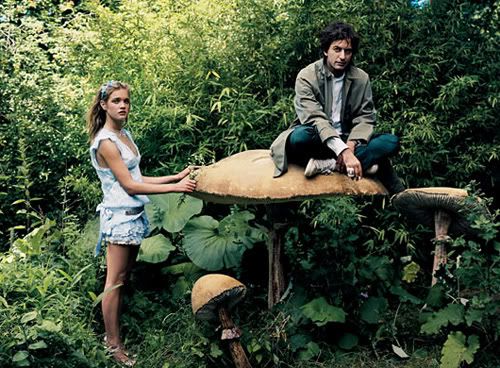 Advice from a Caterpillar. Clad in Marc Jacobs's ruffled chiffon minidress, Alice found herself engaged in an infuriatingly roundabout conversation with a mushroom-dweller. Where am I? she wondered...and how have I gotten here?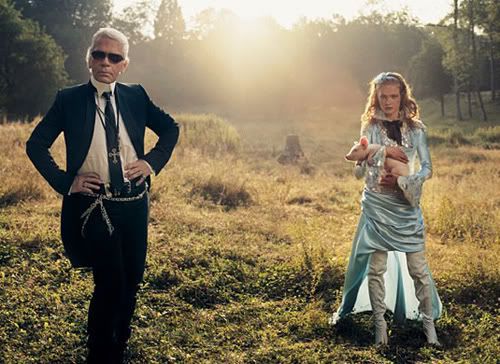 Pig & Pepper. It was a queer-shaped little creature, and held out its arms and legs in all directions, "just like a starfish." Karl Lagerfeld steals the scene yet again.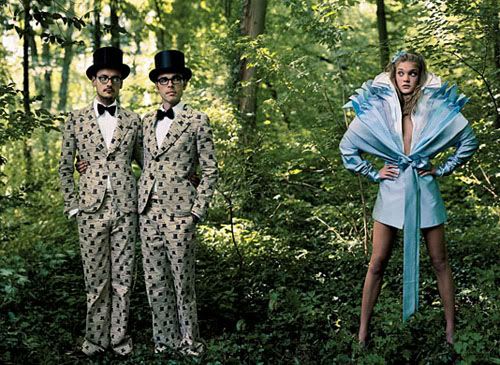 Tweedledum and Tweedledee. "If you think we're alive, you ought to speak," said the one marked DEE. Alice, in a Viktor & Rolf multilayered silk dress, stared as the Tweedle duo spouted nonsensical tongue twisters.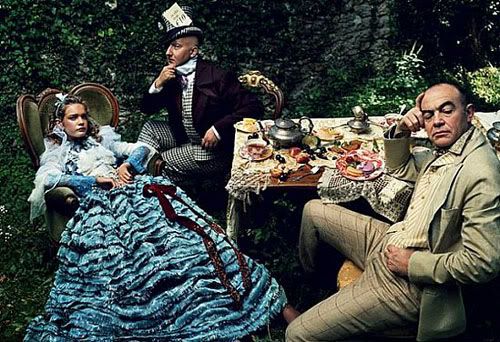 The Mad Tea Party. "No room!" The March Hare and Mad Hatter shouted. "No room!" But Alice plunked down, desperate for some biscuits after a long day of living backward. Christian Lacroix, dahling.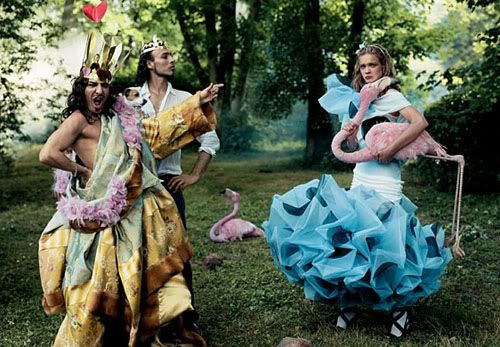 Who Stole the Tarts?. "My name is Alice, so please Your Majesty," the young girl, draped in Dior Couture, said softly. " You make me giddy!" screamed the Queen. Dior Haute Couture by John Galliano.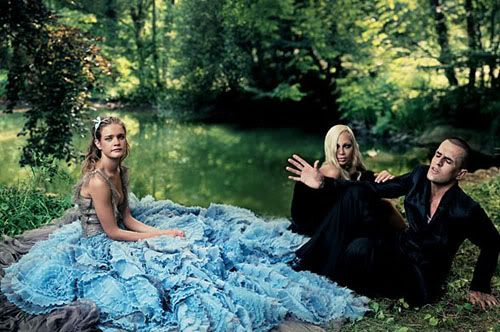 The Mock Turtle's Story. "What is his sorrow?" Alice, in Atelier Versace, asked the Gryphon. "Once," sighed the Mock Turtle, " I was a real turtle." Donatella Versace and Rupert Everett.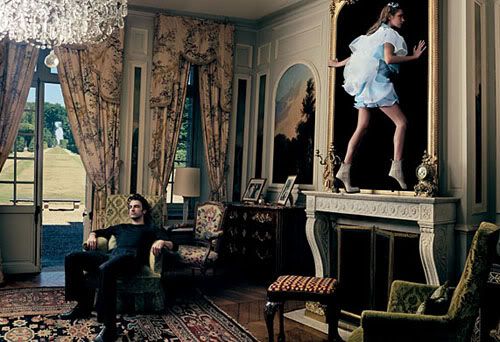 Through the Looking Glass. Wrapped in ocean-blue Balenciaga couture, Alice perched on the mantel, longing to escape into the shadow world, as her black kitty purred nearby. Balenciaga by Nicolas Ghesquière