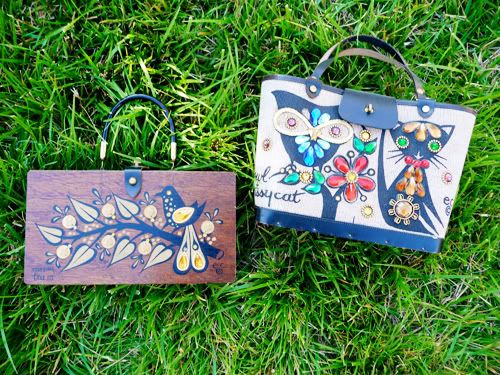 Oh Enid Roessler Collins, how I love you so! OK, so since I'm always yacking about how everyone could use a little "granny chic" in their wardrobe I thought it'd be fun to talk about the Grande Dame of Granny Chic: Enid Collins. Long before the bedazzler was a glimmer in your mama's eye, Enid designed a collection of sequin-sprinkled, jeweled-covered purses that had the ladies swooning. She was probably the first person to make cute and kitschy chic.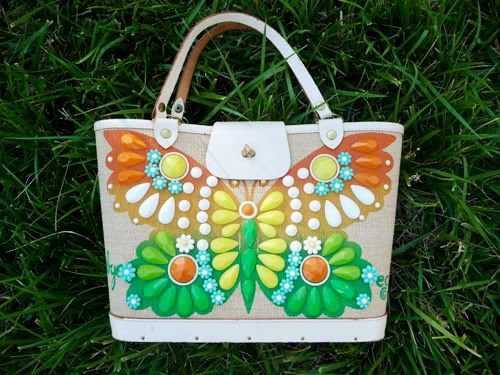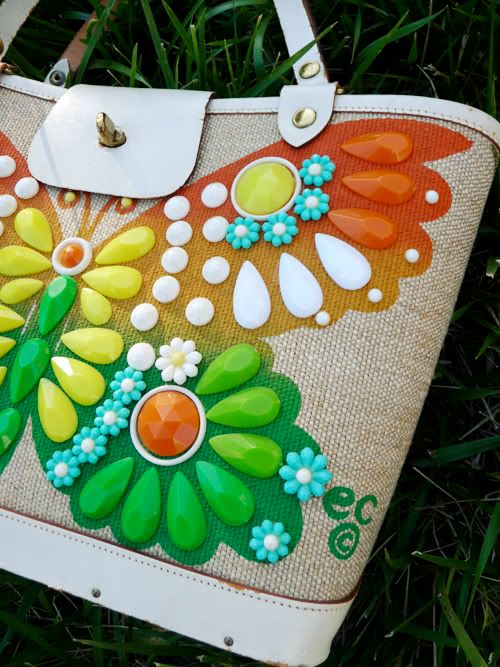 Not a lot is known about her, but from what I can tell, little miss Enid was born in San Antonio, Texas, attended Texas Women's University in the 1940's, where she majored in fashion/costume design and eventually met and married up and coming sculptor, Frederic Collins.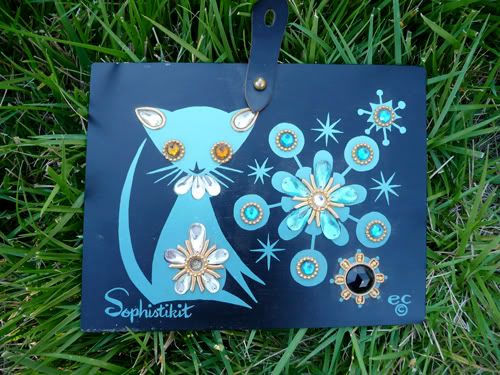 "Her two main purses were the wooded mahogany box bag and the canvas bucket bag.  The bucket bag had a wooden bottom, leather trim, and was made from linen.  The backgrounds were often matte-screened or painted by hand. Her whimsical designs were reminiscent of the Texas landscape and surrounding abundant critter life.  The purses were covered with roadrunners, lady bugs, peacocks (raised on nearby farms), horses and the like.  You would find her box bags and purses disputing colorful saying of the late 1950's....I can still hear my mother preaching, "Money doesn't grow on trees." only to find money did grow on trees if you owned an Enid Collins!"
from Retro Vintage Collectibles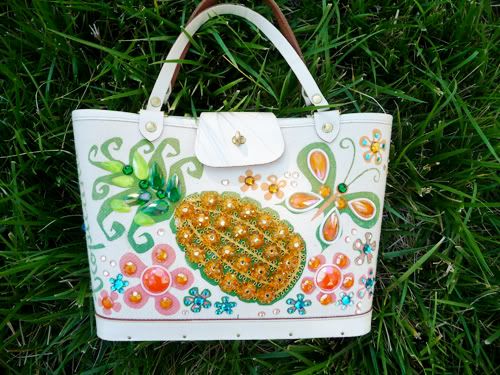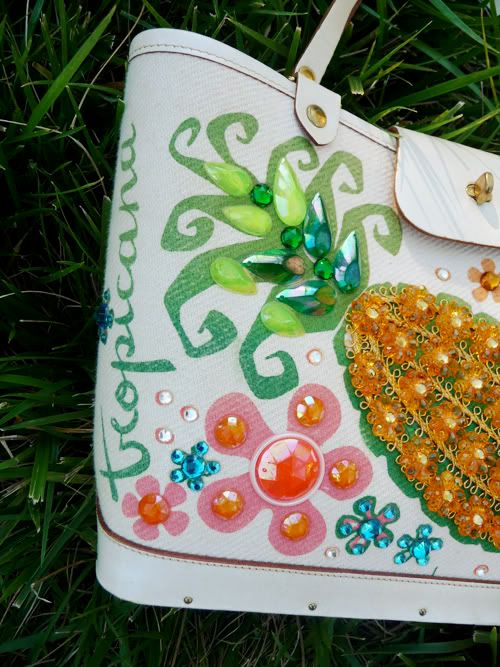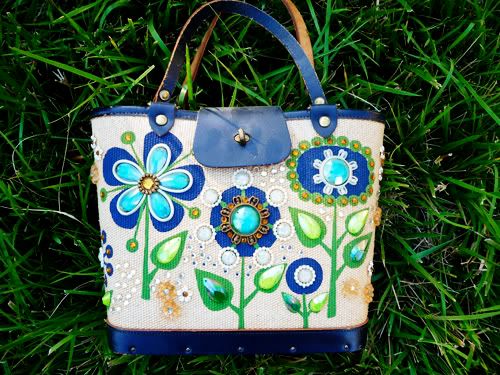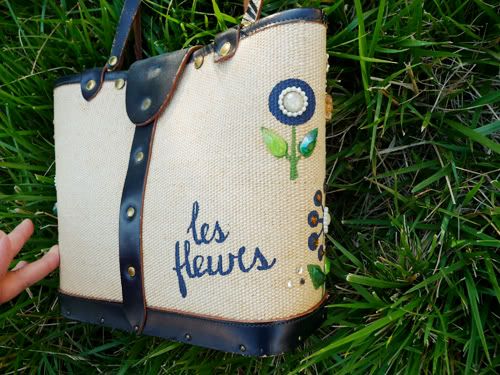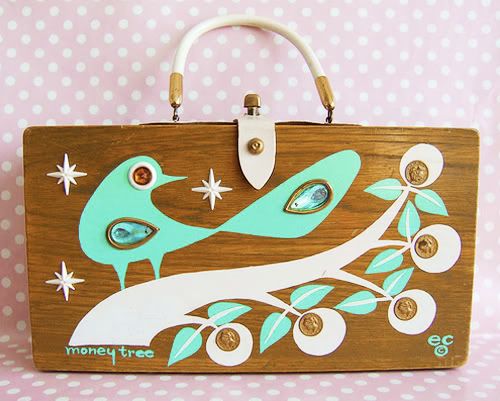 By the late 1960s, Collins bags were carried at over 2,000 stores nationwide (including Nieman Marcus, ooh lala!) and were a "must have" for the stylish woman. Today her original bags have become highly sought after collector's items with price tags for the more popular bags (hello Sophistkit!) going for $200+. The good news is you can still score them for around $20-30 if you have a keen eye. Collectors prize the box bags, I think because they are the most like "art". I personally love the bucket bags because I love to carry them and these are larger and a bit more practical. The box bags are really cute though and each comes with a little mirror inside, perfect for reapplying lippy.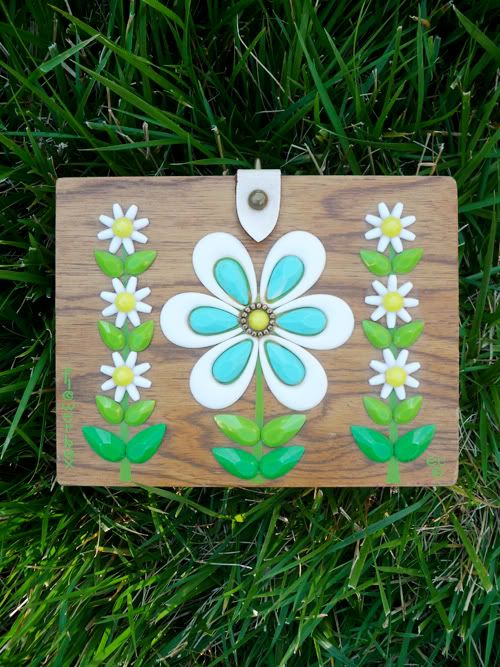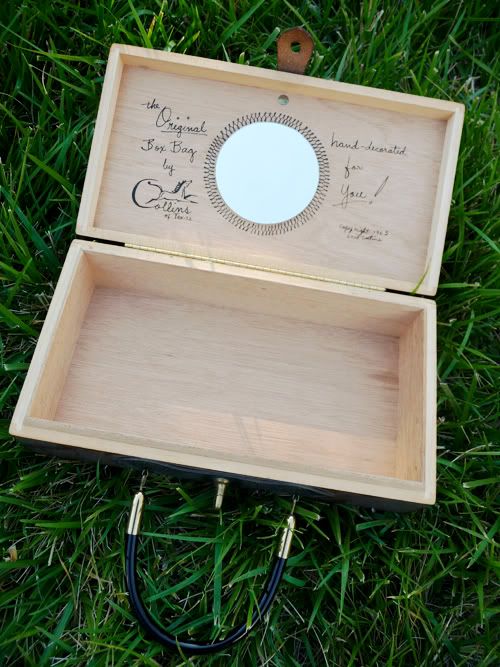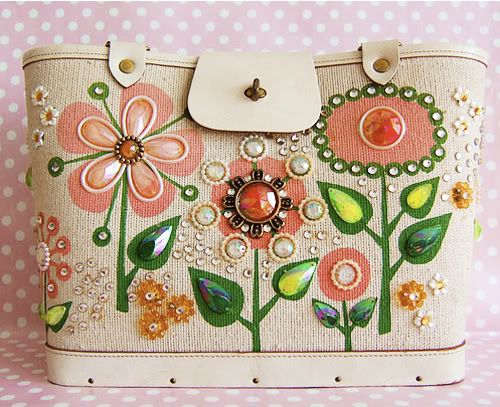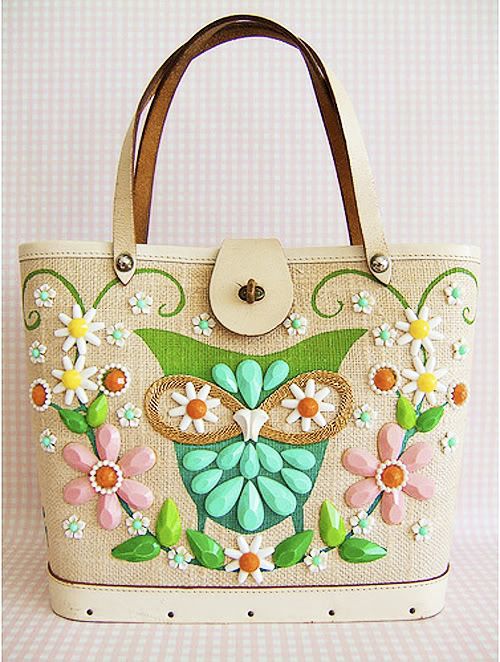 Collins advertisements appeared in upscale mags such as Vogue and The New Yorker and many featured Enid and Frederic's daughter Cynthia carrying a Collins bag, and the catchphrase "There goes that Collins girl!" Love it! I wish I could find a copy of those ads. The closest I've come are these brill pages from an Enid catalog posted by Cathy of California: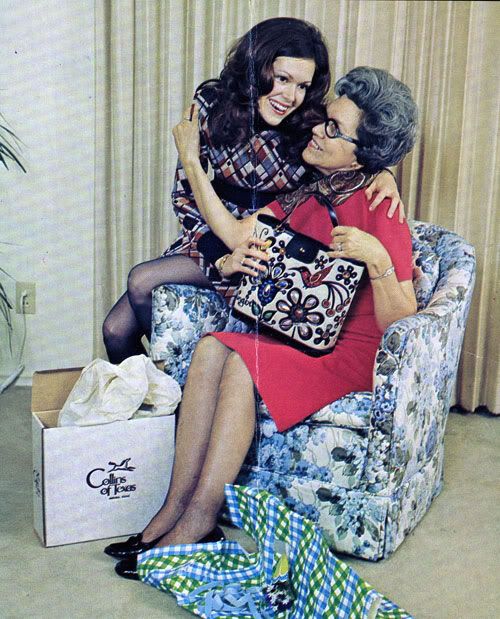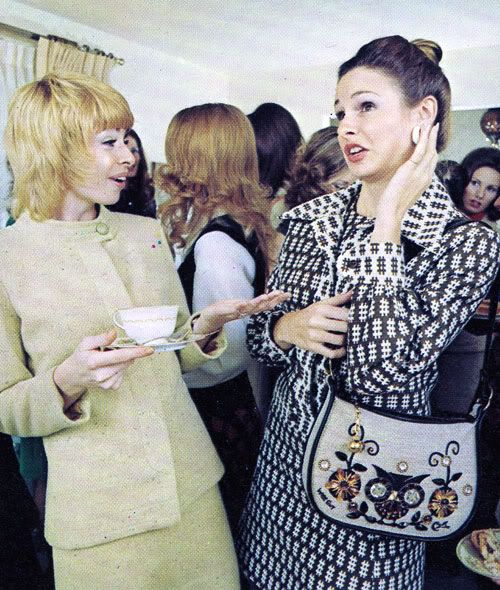 Aren't they amazing?? That bottom picture really cracks me up—for starters, what the heck kinda party is that?? It's crammed full of ladies! I also love how the woman on the right so Penelope (Kristin Wig's character on SNL), "Wow! Sally you have an Enid Collins bag? I have one too." "Erm, well yes I actually have 50 Enid Collins bags, and this one happens to be Enid's own personal bag, and it was created by this little owl who lives in a tree on the moon and designed it especially for me and its a one of a kind original....so yeah, this is probably better than any bag you have."

I have quite a few Enid Collins bags ("yes we know Penelope"), some from thrift stores, some from antique malls and some from eBay. They are such sunshiney fun and almost like little works of art on yer arm.
Images: From my own collection. Bottom three from the amazing collection of Xie Kitchen. She has so many rare bags, you have to check them out.