I love vintage things—you name it I'll collect it. Clothing, handbags, jewelry, kitchenwares,cook books, kid's books, electronics. The list goes on and on. Oddly the one thing I've never gotten into has been vintage cars. Oh don't get me wrong, I totally appreciate them. But for some reason they've never been my "thing". One of my best pals Stephanie is a total car fiend. She and her man have the BEST collection of cars and go to all these amazing car rallies, like the California Melee and the Alpine 500. They're truly the coolest. I have to admit whenever I see her and her cutie cars it does make me yearn for something more than mah simple little VW Jetta. I often think if I were going to get a vintage car, WHICH would I choose?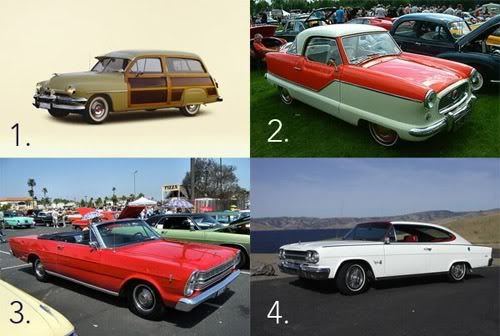 1. A sassy family vehicle like the 1951 Mercury Wood Paneling Station Wagon?
2. The sprightly and adorable Nash Metropolitan?
3. Go a little bigger and a little more rocker with a 1966 Ford Galaxie 500? (best car name ever)
4. Get funky with the 1965 Dodge Marlin

Decisions, decisions. It's so hard to pick just one. There are so many amazing vintage cars out there.
I'm pleased to report, I think I found thee very best.

Ladies and gentlemen, feast your eyes on the insanely cool 1962 Fiat 600 Jolly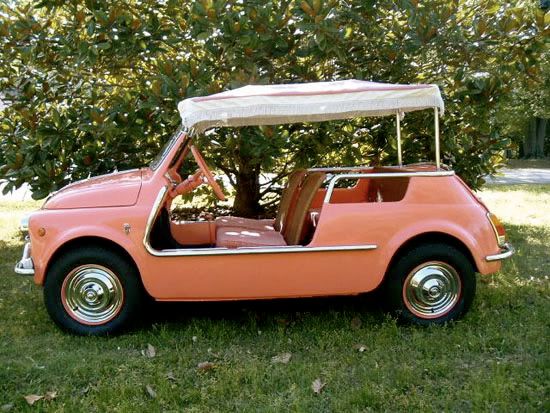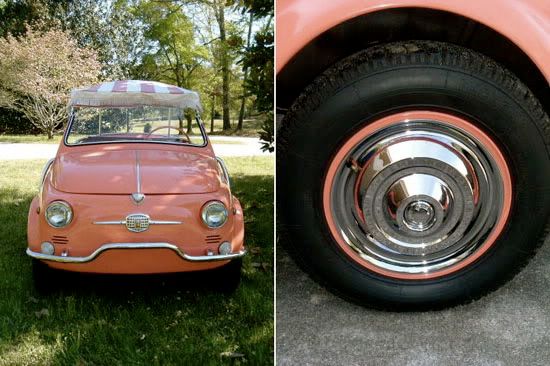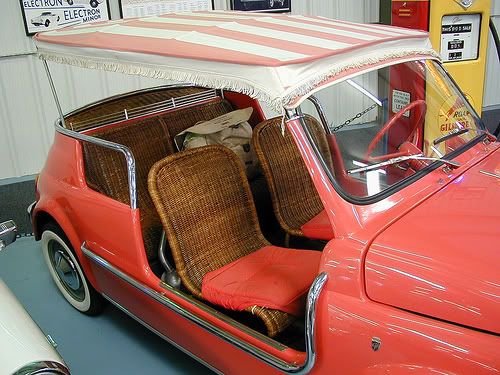 Can you say tres jolie? Oh I think you can! The Fiat Jolly is crazy rare (Aristotle Onassis owned one) and featured wicker seats (yes I said wicker) with the option of a fringed top to "shield its occupants from the Mediterranean sun". How charming can you get? Of course it helps if you live in a sun drenched local and only speak French or Italian while driving it, but man oh man.

I think the pink is pretty heavenly but then I spied this lemon drop yellow Fiat and well...it's kind like sunshine on wheels doncha think?

OK, who calls shotgun??