Can you guess who this is??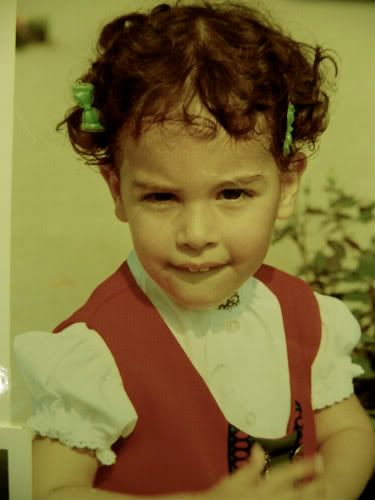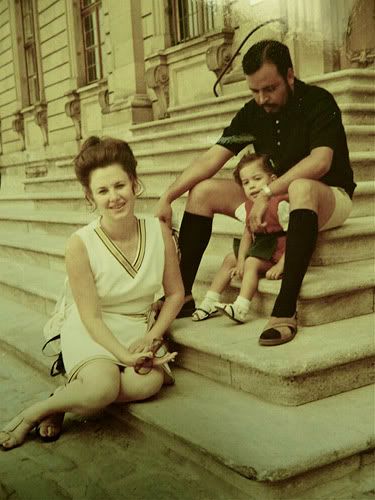 Yes it's meeeee! Hanging out with my parents in Germany, circa 1972 or so, at th
e
Würzburg Residence
 court gardens. My mother looks very fetching, although I have to say she never really wore her hair like that (all up and fancy). She has always been super stylish but her hair was also more "natural" (and usually blonde!).
I think looking at those little German books inspired me dig up these photos—I thought you might like to see what is quite possibly the World's Smallest Dirndl!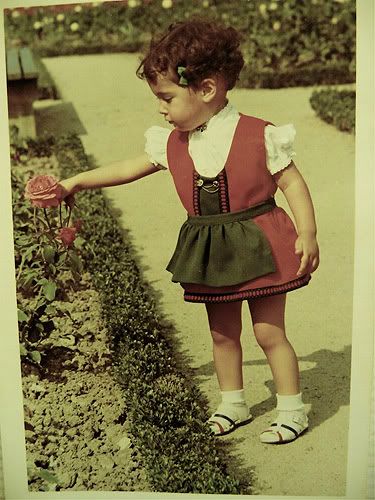 My expression is so funny here....very confident for a little thang!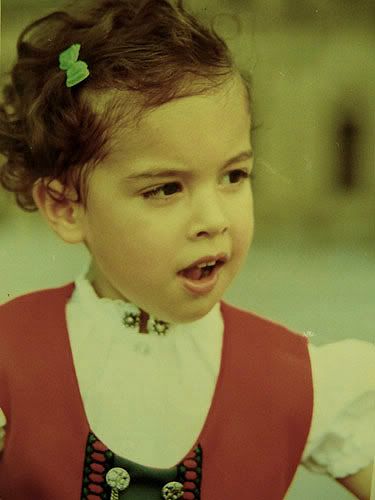 I try and straighten/smooth my hair out, but you can see where Wolfie gets his curls!
These gardens are so pretty and manicured. I remember there were beautiful swans
swimming in the little lake and tons of roses.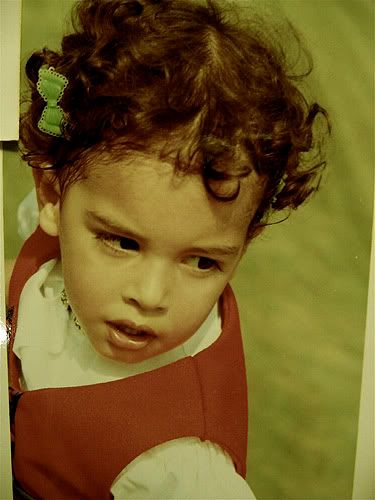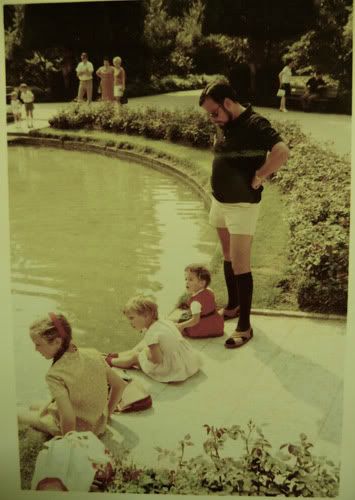 I love those snazzy knee socks on my dad. Hah! We are hoping to take a trip to Germany this summer.
I haven't been since 2000 and its high time. Most of my mother's family are no longer with us
(my Opa passed away in 1985). I'm so grateful my parents loved to travel and we visited Germany
numerous times while I was young. My favorite vacation was when my mom and I went on a solo
trip....I think I was seven. She took me on a bus tour of King Ludwig II's castles and IT WAS AMAZING.
When you're seven years old, castles and princesses rank pretty highly on the ol' interest scale...and this
was like nothing I had ever seen.
King Ludwig II of Bavaria was a bit of a nut job. For example, he visited
Versailles and was so impressed he decided
he wanted one of his very own, and built
Herrenchiemsee
. 
Spectacular is an understatement.....the Hall of Mirrors, amazing gardens, gold and opulence everywhere.
Crazy!
He had two bedrooms, one for sleeping: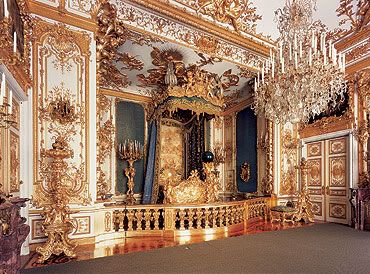 and one for "receiving guests." (The man didn't like to get out of bed, which I can appreciate.

)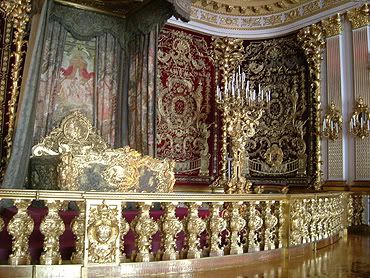 H

is other palace (because honestly, having only one is simply 

gauche)

 was

Schloss

 Linderhof

. This place was a neo-French rococo extravaganza with enough gold and velvet to make Liberace swoon.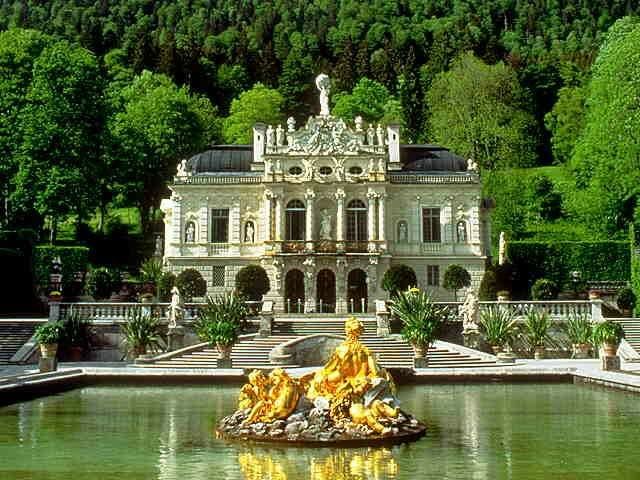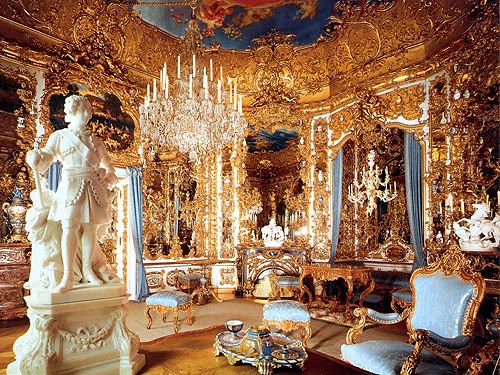 The garden was totally exquisite and not only  had a dreamy grotto, but also featured an exotic tea house with bejewelled peacocks (take that, Hef!).
Perhaps one of the most impressive
 things, at least in my seven year old mind, was this crazy dining room table. King Ludwig was a fan of the brother's Grimm fairytale that featured a magical table. When the main character in the story flicked the table cloth and shouted "
Tischlein deck
' 
dich!" (or "Table set yourself!") a sumptuous spread of tasty treats would appear. Wellllll,  King Ludwig wanted one of these for his very own. So they built a table that sat on a platform rigged with pullies. He would ring a bell and the table would sink down to the kitchen, where it was promptly loaded up with goodies....it would then rise up in front of him, "magically" so he could enjoy his evening meal. (I should do some research to see if he had a chimp named Bubbles, because I'm seeing some remarkable similarities between him and another famous nutter....). Viva "ZE TABLE!"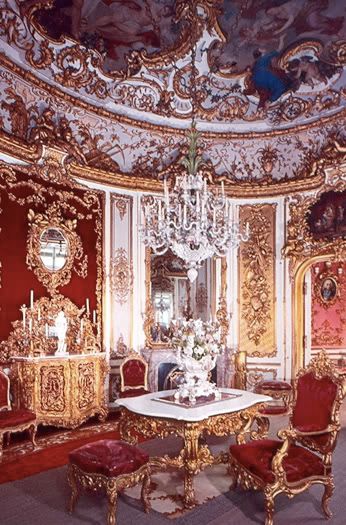 You're probably familiar with this one
, the breathtaking stunner, Schloss
Neuschwanstein
. 
This amazing castle
 sat nestled in the woods of the mountaintop overlooking his childhood home. This is the ultimate, classic fairy tale castle (when you think "castle", you think of this!). Walt Disney based his Sleeping Beauty Castle on Neuschwanstein.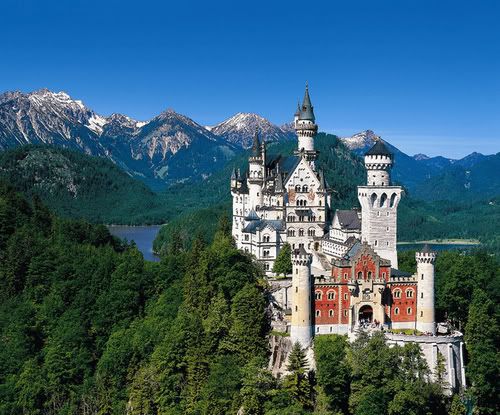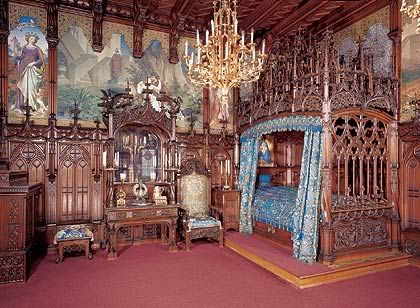 I believe this is considered his more "rustic" residence. Hah! All three are equally spectacular.
M
y dream is to take Wolfie on that same tour some day. And of course he'll have to wear some amazingly cute lil lederhosen. Just don't tell him that part yet please..