OK OK....since I feel so badly that I was a slack-a-dacious blogger today I'm going to make it up to you by posting some embarrassing photos and telling you a little story that goes along with them. Many years ago I went through a super sparkle phase. I loved wearing anything shiny or sparkly...and honestly it was kind of hard to find back in the day. I scored some sparkly 70s cardigans, had a treasured pair of "sparkle" tights (that i scooped up around halloween) and had an awesome collection of silvery, vintage metallic shoes. So I was shopping at a thrift store one day and spied this insane pink, sequin sun visor. I'm not really a sun visor kind of gal, but I thought it was so funny and cool and PERFECT. Greg thought I looked ridiculous but to prove my point I insisted on wearing it while I shopped. Suddenly I felt a presence lurking behind me. I turned around and discovered an elderly lady eye-balling me. "That's a lovely hat you have there." "Oh...yes. Erm...thank you." I mumbled. She just stood there looking at me expectantly. I felt a little badly, like, should I offer to give her the hat? I decided she was just being nice and didn't really want it for herself. I gave her a friendly nod (tip of the ol sun visor) and kept on shopping. Everything was going fine, when I suddenly realized that this little old lady was popping up EVERYWHERE I was. I'd pick up a sweater...she would suddenly appear lurking beside me. I was flipping through dresses—and would catch her peering at me from the other side of the rack. I was examining some necklaces in the jewelry case....I'd catch a glimpse of her in the mirror behind me. Oh she was good....pretending to be browsing handbags and brick-a-brac, but every time I caught her eye she'd give me THE LOOK. The capper was when she "accidentally" rammed into my shopping cart. I was dying...was it the darn sun visor she wanted?? Seriously? She was stalking me for this crazy thing?? I was young and dumb and instead of just giving it to her, it suddenly became a "thing". Like, "I am buying this dang sequin sun visor if it kills me!!!" I admit I was a little nervous that I'd leave the store to find the Palm Beach Mafia waiting outside shaking their canes and trying to run me down with their Rascals. I feel a little guilty to this day, and I'm sure somewhere there is a sassy old gal telling her friends about that young whipper snapper who scored THE HAT of the CENTURY.

Fast forward 8 years and I still have that damn visor. I don't really wear it all that much because I look like an idiot...but it 100% always makes Greg laugh when I do. And as we all know, making people laugh is one of my Top 7 Favorite things.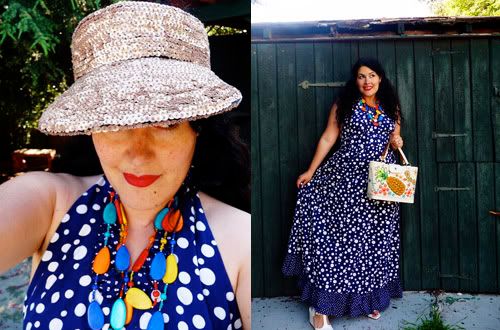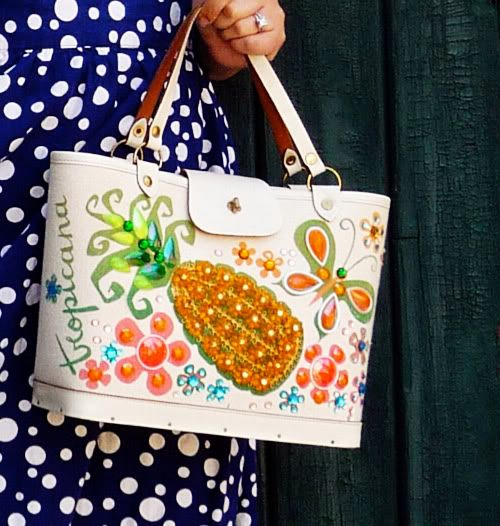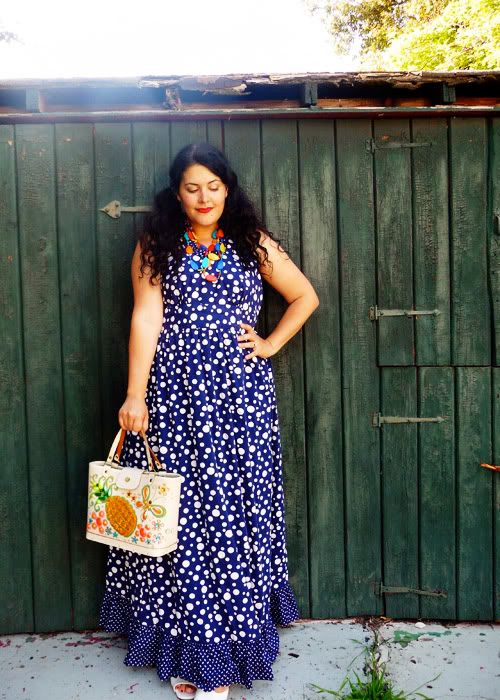 + PINK SEQUIN SUN VISOR!!!
+ Vintage polka dot apron dress
+ Cool beaded necklace my sweet friend Jessica brought me back from Africa
+ Vintage Enid Collins Pineapple bag

As an added treat, a snippet from one of my favorite Seinfeld episodes....when George is being chased by the Geriatric Bike Gang.